Partick Thistle: Frederic Frans pleased with detour to Firhill
By Clive Lindsay
BBC Scotland Sport
Last updated on .From the section Football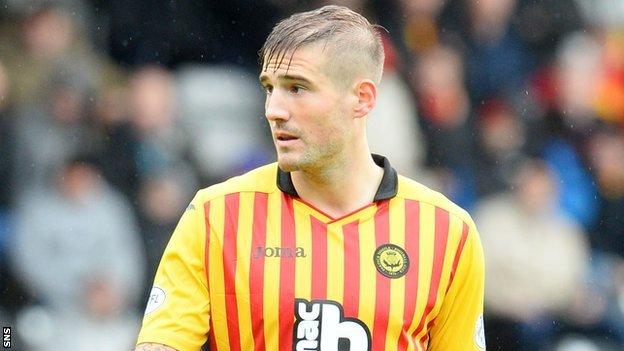 Missing out on a contract with Leeds United proved a blessing in disguise for Belgian central defender Frederic Frans.
"This is Premier League, so I think it's even better," said the former Leeds trialist who made his Jags debut in Saturday's 0-0 draw with St Johnstone.
"If you see it on your CV, Premier League games, I think it is better than Championship games."
Until this summer and subsequently earning a three-month Thistle contract after a successful trial, Frans had spent his whole career at Lierse, who last season finished 12th in the Belgian top flight.
"Previously, I went on a two-week trial at Leeds and they were going to offer me a contract then they changed the manager and I went back to Belgium," the player capped twice at under-20 level explained.
"Then came Partick Thistle, so I immediately jumped on it and it worked out well."
The Thistle connection came through Charlie Miller, the former Rangers, Watford, Dundee United and Brann midfielder who also had a spell at Lierse.

"My agent is John Viola and he works with Charlie Miller, and Charlie played with the manager and that's how they got in touch I think," explained 6ft 4in Frans.
"I played 20 years for the same team and the last season was difficult.
"There were some changes in the team and that's when I thought I would try to go abroad, because the other teams I could go to in Belgium were similar to the club I was at.
"If I was to stay in Belgium, it would be with my team since I was five and I said to my agents to find me a team abroad and that's how I ended up here."
Frans enjoyed his first competitive taste of Scottish football.
"It was nice," he said. "Of course, the wind was a bit difficult, but I enjoyed my debut.
"It was pretty similar to Belgium. The Belgian league is also pretty fast.

"I like to play on the ground and not too many long balls and I like to get the ball at my feet and not lose the ball.
"In Scottish football, they are always on the go and sometimes it is good to just keep the ball. Our team try to do that and try to play football and I'm happy with that.
"From the first day I came here, everybody has made me feel welcome in the team and that makes it much easier."
Frans hopes he can win himself an extension beyond the initial contract that runs until 5 January.
Thistle manager Alan Archibald, who played alongside Miller at Dundee United, was certainly pleased with what he saw against St Johnstone.
"He had his hands full up against James McFadden and Brian Graham," said Archibald.
"But I'm delighted with his debut and to get a clean sheet on top of that as well.
"He is very composed for a big lad. He can look cumbersome, but he is good on the ball and, you saw against St Johnstone, he doesn't hit too many long balls."