Liverpool: Anfield protest against prices during Hull City game
Last updated on .From the section Liverpool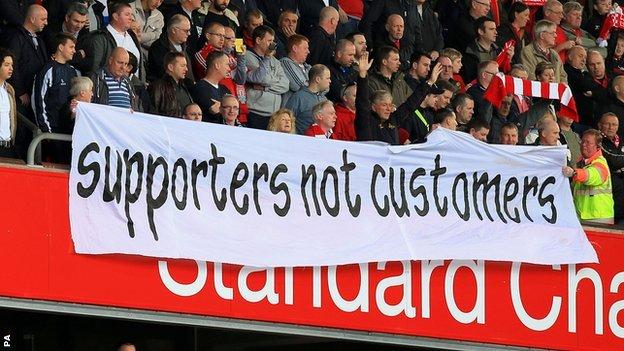 Liverpool fans protested against ticket prices at Anfield during the Reds' 0-0 draw with Hull on Saturday.
According to the BBC's Price of Football survey, the cheapest price for a ticket at a Liverpool home game is £37, more than the Premier League average of £28.80.
Only Chelsea, at £50, charge more for their cheapest ticket.
Banners displayed in the Kop read "supporters not customers" and "Kop kids pay adult prices".
In a message on their website, fans' group Spirit of Shankly said: "Ticket prices continue to rise, outstripping inflation by over 1,000% in the last 20 years.
"It is why we, and others including the Spion Kop 1906 group, have continually campaigned on ticket prices, calling for them to be lowered and made more affordable to make Anfield more accessible for current and future generations."
The price of Liverpool's cheapest season ticket is also the fourth highest in the top flight.
Only fans of Arsenal (£1,014), Tottenham (£765) and Chelsea (£750) pay more than the £710 ticket available to Reds fans.
Liverpool have been contacted about the protest but have yet to respond.