El Clasico duels: Who were the winners and losers?
By Andy West
Spanish football writer
Last updated on .From the section European Football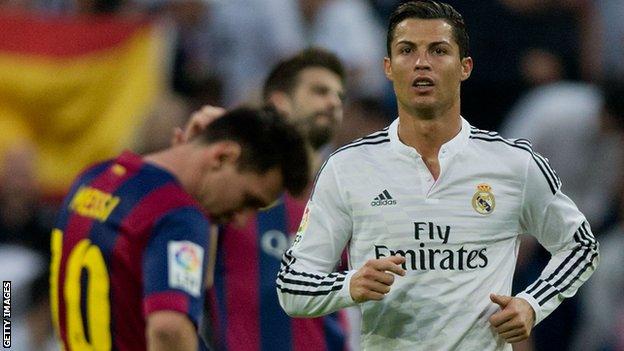 Saturday's pulsating Clasico at the Bernabeu offered a series of fascinating head-to-head confrontations as Real Madrid overpowered Barcelona to claim a deserved 3-1 victory.
How did the key men perform? Let's take a look at the most important personal duels on the day and see who came out on top.
Cristiano Ronaldo v Lionel Messi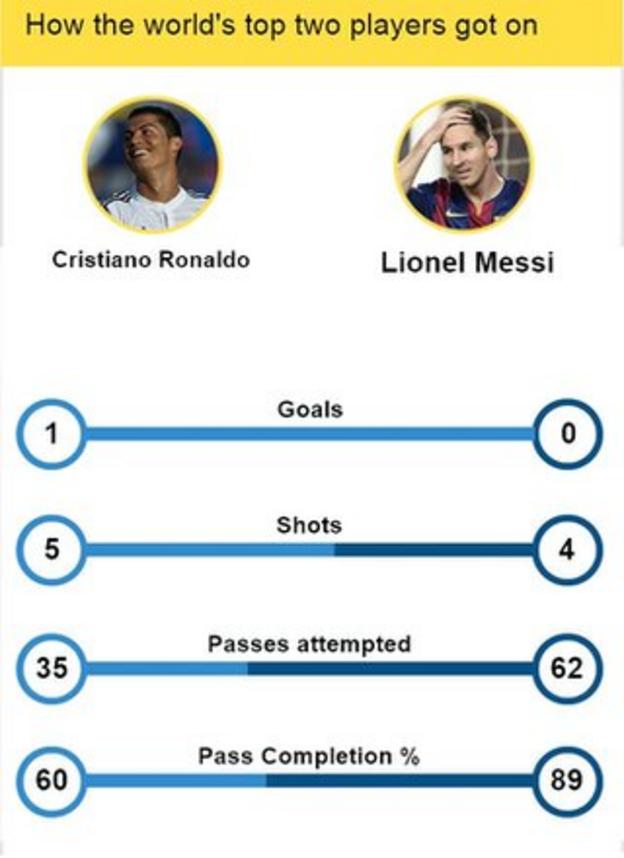 The two greatest players in the world, both in magnificent form, going head to head as they chased all-time La Liga goalscoring records.
And it was, well, a bit of a damp squib, actually.
For once, neither Ronaldo nor Messi were the key players in the encounter, with the game's biggest superstars playing second fiddle to other (Real Madrid) players.
It could have been different: Messi only needs one goal to equal Telmo Zarra's all-time La Liga record of 251, and he should have had it when he ran onto an inviting cross from Luis Suarez. But his finish was unusually lacking in conviction, allowing Iker Casillas to make a good save.
As well as marking a milestone, if Messi had converted the chance it could well have decided the game, sending his team 2-0 up.
But within minutes Real were level as that man Ronaldo did what he does from the penalty spot (score), and Messi was unable to turn the game back in his team's favour, getting very little change out of the home team's excellent defensive partnership of Pepe and Sergio Ramos.
Ronaldo, as always, was on a relentless one-man mission to score as many goals as possible, and he would have loved the chance to break his current tie with Zarra and Alfredo Di Stefano for the most hat-tricks in La Liga (22).
But he was not selfish, playing a role in his team's third goal by passing to James Rodriguez, who subsequently teed up Karim Benzema, rather than trying to score himself.
And so the latest meeting of football's two giants yielded no new records, no match-winning heroics, no memorable moments… but a clear winner.
VERDICT: Ronaldo was a bigger menace and scored - albeit from the penalty spot. Messi will rue his missed opportunity when Barca led 1-0. RONALDO
Karim Benzema v Luis Suarez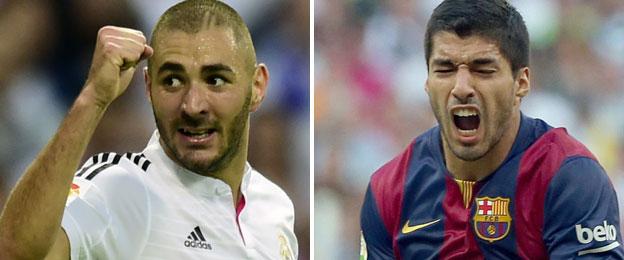 Will Luis Suarez start or be unleashed from the bench? Luis Enrique described it as the "million-dollar question" in his pre-game media conference and the answer was against most expectations: Suarez started.
And how he started. Less than four minutes had elapsed when he received possession on the right and showed awareness and technique to pick out Neymar with a perfectly placed crossfield pass, allowing the Brazilian to cut inside and fire home the opener.
With one of his first touches of the ball, Suarez already had an assist to his name - and before long he very nearly registered another with a brilliant low cross for Messi, who really should have scored.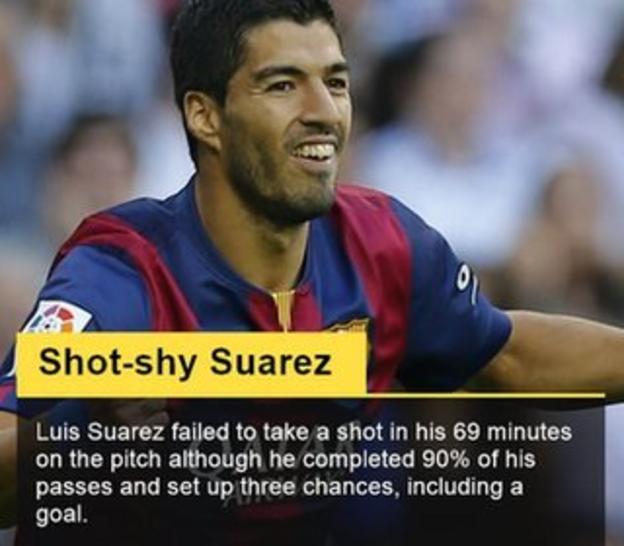 After that, Suarez faded and, as planned, he was replaced by Pedro midway through the second half without having the merest sniff of a debut goal but having done enough to show his undoubted quality.
However, the night belonged to another number nine after a superb performance from Karim Benzema - good enough, even, to earn a standing ovation from Real fans who have taken their time to warm to the Frenchman.
Benzema's ability to link the play with midfield and his clever movement, creating space for Ronaldo's bursts into the box from the wing, were a notable feature of the game.
And he also delivered the goods where it most matters - an aspect of the game which sometimes lets him down. Having already been unfortunate to hit the bar with a header, he made the game safe by converting his team's third goal, providing a cool finish to a scintillating counter-attack.
VERDICT: Benzema is playing better than ever, but Luis Suarez, we all know, will be in the goals soon. BENZEMA
James Rodriguez v Neymar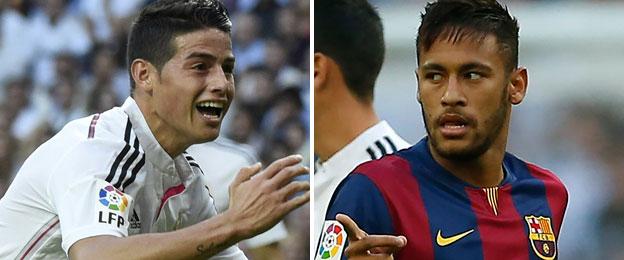 This battle of South American superstars - a repeat of the World Cup quarter-final clash between Brazil and Colombia - lurched strongly in Barca's direction very early on when Neymar netted the opening goal.
It was a classy strike, made to look easy by a man who appears far more comfortable in his surroundings in his second season in Spain.
But that proved to be the high point for both Neymar and his team, and although the Brazilian star had occasional promising link-ups with fellow forwards Messi and Suarez, they were fitful and sporadic - hardly surprising as they had never played together before.
Rodriguez, meanwhile, was an integral member of a far more coherent overall team structure. Lining up on the right of midfield but often drifting inside, he was consistently involved in the game and provided a perfectly placed pass for Benzema to net Real's decisive third goal.
Although he made a slow start to life with Madrid, looking physically out of sorts in the opening weeks of the season, Rodriguez has now clearly adapted to his new club and is beginning to justify the hefty transfer fee - which could rise to £71m - which brought him from Monaco.
VERDICT: Great early strike from Neymar, but Rodriguez showed his class with a cool assist for Benzema. TIE
Isco v Andres Iniesta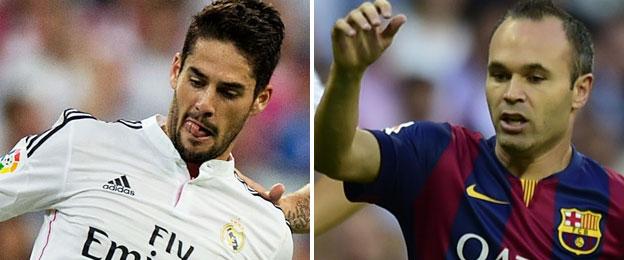 For the last decade, Andres Iniesta has been the great creative talent of Spanish football, unlocking defences with slaloming dribbles and incisive through balls. Not to mention a World Cup-winning goal.
On Saturday, however, Iniesta's impact was negligible and his performance was enormously overshadowed by Real's left-sided midfielder who should end up inheriting his place in the national team: Isco.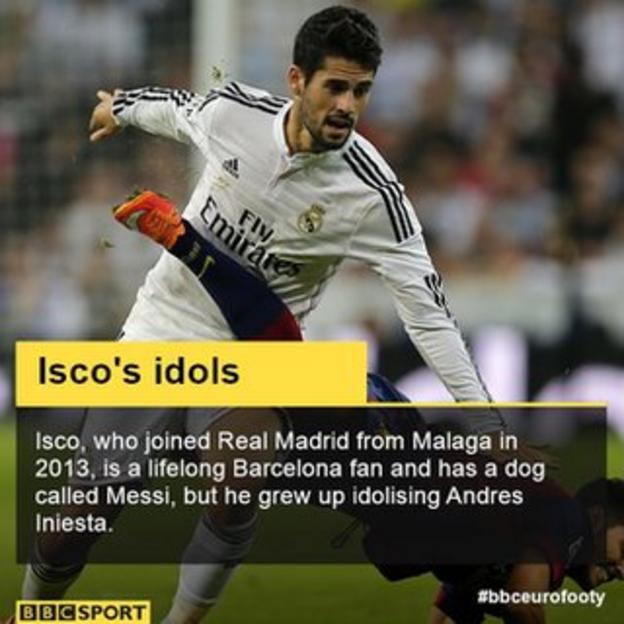 The immensely talented 22-year-old earned a raucous reception from the home fans after a performance which blended talent with hard work, never more so clearly illustrated than his role in the game-clinching third goal, when he chased an apparent lost cause to win possession - with Iniesta culpable - before helping the ball on to his team-mates.
Considering the stellar cast alongside him, it's not surprising that Isco has struggled to nail down a regular starting spot at the Bernabeu and manager Carlo Ancelotti again insisted after the game that Gareth Bale will return to the team when he is fit. But at the moment, it's tough to see how Isco can be left out.
Iniesta was starved of service by a combination of his own team's midfield inferiority and the positional discipline of Toni Kroos and especially Luka Modric, and after failing to influence the game he looked a frustrated figure as he limped off with a calf injury.
VERDICT: Spanish legend outplayed by legend-in-the-making. ISCO
Marcelo v Alves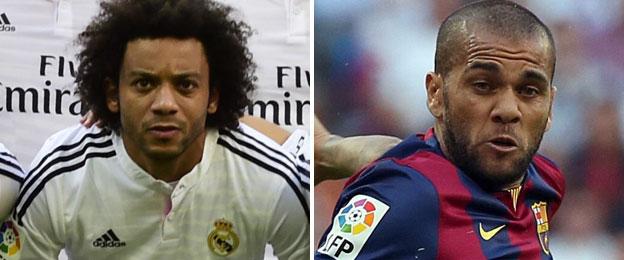 The Brazilian international team-mates were all handshakes and smiles in the tunnel before the game, but once the action got underway there was only one winner.
Marcelo was rampant down Real's left wing, teaming up with the equally impressive Isco to repeatedly cause problems for the visiting defence - including the cross which was handballed by Gerard Pique for the equalising penalty.
Alves struggled both with and without the ball, although his task was greatly complicated by the fact that whereas Marcelo and Isco operated in tandem, Alves was left to plough a lone furrow as he received nowhere near enough defensive assistance from either Lionel Messi or Luis Suarez, who alternated on the right flank.
VERDICT: Marcelo ran riot against his Brazil colleague - no contest. MARCELO
Luis Enrique v Carlo Ancelotti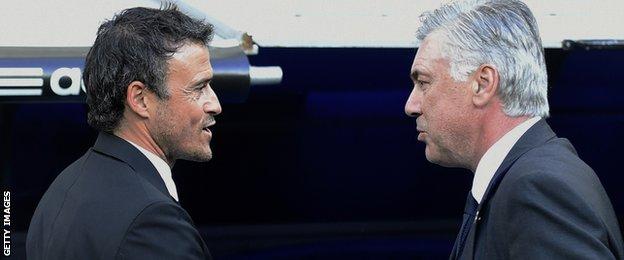 Real boss Carlo Ancelotti will probably disapprove of an analysis which provides a verdict on various head-to-head clashes, because he has regularly stated that the key to his team's success is performing as a collective unit rather than relying on flashes of individual brilliance.
However, perhaps we can get back into the Italian coach's good books by giving him full marks in his personal battle with Barca chief Luis Enrique, who endured a miserable coaching return to his former playing club.
Having teased us before the game that he might spring a "surprise" in his starting line-up, in the end Ancelotti did no such thing and instead sent out exactly the 11 players everyone had expected.
Key facts from El Clasico

Luis Suarez did not have a single shot in his 69 minutes on the pitch but he completed 90% of his passes and set up three chances.

Real Madrid have now scored 33 goals after nine games so far this season in La Liga and the last team with as many were the Real side of 1959-60.

Real Madrid midfielder Luka Modric had 100% completion rate from his 41 passes.

Los Blancos had 42% of the possession but had 18 shots compared to Barcelona's 15.
'Balance' has always been the key word for Ancelotti and he has struck gold for now. His team is a smoothly functioning machine which does not require any tinkering - and he knows it.
Enrique, meanwhile, deserves criticism for harking back to former glories by selecting a midfield trio of Sergio Busquets, Xavi and Andres Iniesta when even his predecessor Tata Martino had given up on that combination by the end of last season.
Ivan Rakitic was signed in the summer to provide strength, mobility and energy to a midfield badly lacking those qualities, and he has made a great start to the season.
Dropping him was a gamble which failed, and Enrique will now find that his honeymoon period is over.
Jeremy Mathieu at left-back and Luis Suarez starting were also questionable decisions but they were peripheral to deciding the outcome of a game which was won and lost in midfield.
And one final note: Enrique really, really must sort out his team's awful defending from set-pieces after conceding yet another goal from a corner.
Verdict: Ancelotti played it straight by repeating a winning formula; Enrique took an unnecessary gamble. ANCELOTTI