Leeds United: Massimo Cellino should 'get out' of club - Giles
Last updated on .From the section Football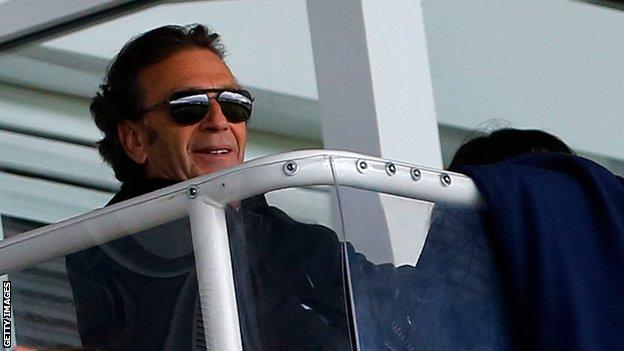 Former Leeds United midfielder Johnny Giles has urged owner Massimo Cellino to "get out of the club".
He was the third managerial departure since Cellino became owner in April.
"I think the best thing he could do is get out of the club and make way for a new owner who could work in the best interests of the fans," Giles told BBC Radio 5 live's Sportsweek programme.
Milanic, 46, was appointed on 23 September but failed to win any of his six games in charge. His departure came after Saturday's 2-1 defeat at home to Wolves, which left Leeds 18th in the Championship, five points above the relegation zone.
Massimo Cellino
Born:
1956, Cagliari
Business:
Agricultural entrepreneur known as the 'King of Corn'
Football:
Chairman of Italian club Cagliari for more than 20 years
Giles - a key member of the Leeds' title-winning teams of 1969 and 1974 - said: "It's crazy stuff. How long was he [Milanic] there? I don't know how many managers he [Cellino] has had since he came in, and I don't know what he expects of the managers. There are no resources to get players in. He wants miracles, I think.
"Why don't these owners become managers themselves? He might as well.
"I feel sorry for the fans. They have great support and tradition, it's a great set-up, fans pay good money, and then this fella comes in with a few bob and he's making a total mess of it."
Previous Leeds boss Dave Hockaday - appointed to replace Brian McDermott in June - also lasted only six matches before he was sacked by Cellino, who dismissed 36 managers during 22 years in charge of Italian side Cagliari.
"There's nobody going to stop him," Giles said. "He's in charge of the place. It's unfortunate for the fans he's taken over. If he has a history of it, he'll continue to do it. It's madness, and it's the fans who are suffering.
"It's outrageous that someone like him could come into a club - any club - and behave the way he has."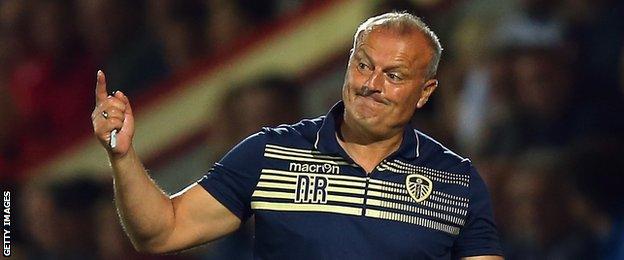 BBC Radio Leeds reports that academy manager Neil Redfearn, who will take training on Monday, will replace Slovenian Milanic on a permanent basis.
Redfearn was caretaker boss after Hockaday's departure but Cellino decided, along with sporting director Nicola Salerno, that the club needed a foreign coach.
Former Republic of Ireland player-manager Giles, who made 383 league appearances for Leeds between 1963 and 1975, warned Redfearn against agreeing to take charge at Elland Road.
He said: "He won't be allowed to do the job. He has no resources. So what chance has a manager got? It's a difficult job when you've everything right.
"I feel sorry for Neil Redfearn. He doesn't have to do it, and if I were advising him, I'd keep a million miles away from the manager's job."
Cellino agreed to buy a 75% stake in Leeds, through his company Eleonora Sports, from previous owner Gulf Finance House Capital in February.
The Football League blocked the deal in March after he was found guilty in a Sicilian court of failing to pay import duty on a yacht.
But an independent QC then overturned that decision on appeal, allowing the takeover to go through.
Leeds were losing around £1m a month at the time of the takeover, but Cellino told BBC Radio Leeds in July that he had cleared the club's debts.