Greg Dyke wants Sepp Blatter to be challenged as Fifa president
Last updated on .From the section Football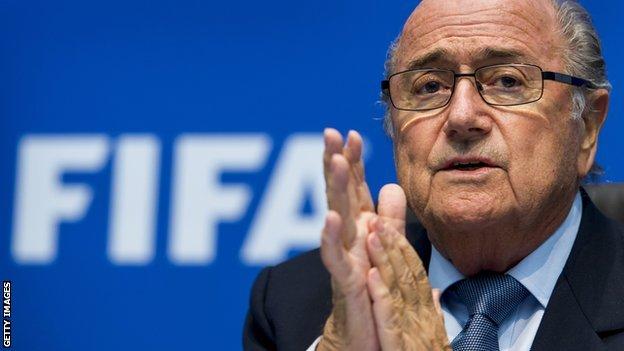 FA chairman Greg Dyke would still like to see a second candidate contest Fifa president Sepp Blatter when he stands for re-election next year.
Blatter confirmed in September he will seek a fifth term despite previously suggesting he would stand down in 2015.
Dyke told BBC Radio 5 live's Sportsweek he hopes a second candidate will still come forward.
"As an individual he (Blatter) is OK, but two terms is probably as long as anyone should do in that job." he said.
"You need change and it's hard to get change if you don't change the president."
Sepp Blatter in focus
Born:
Switzerland
Date of Birth:
10 March, 1936
Has a degree as Bachelor of Business Administration and Economics from the University of Lausanne
Played football in the Swiss amateur league
Fifa technical director 1975-1981 and general secretary 1981-1998
Was elected as the eighth Fifa president in June 1998
Dyke met with Blatter, 78, last week to discuss a range of topics, including the staging of the Qatar 2022 World Cup and the increased use of television replays in determining refereeing decisions.
The FA chairman restated his desire to see Blatter come up against another presidential candidate next May.
"The FA made it very clear we didn't think he should have stood again," he added.
"We did think he stood last time on the basis that would be his last term and therefore we needed another candidate.
"I think there's a possibility another serious candidate emerges. I think their chances of getting in are not great.
"I think Blatter will be there for another four years. But in English football we all think that change would be a good thing."
Former Fifa executive Jerome Champagne has indicated his desire to stand as a candidate, but the 56-year-old Frenchman requires the support of five Fifa member football associations.
Champagne does not have to disclose who they are until official declarations are made in January.
During the interview with Sportsweek's Garry Richardson, Dyke also stated:
He hopes

the Qatar 2022 World Cup

will be played in the winter, despite Fifa appearing to depart from previous suggestions it would.

A full copy of the

Garcia report

into the voting procedure surrounding the awarding of the 2018 and 2022 World Cups should be published.

A decision over whether to re-employ convicted rapist

Ched Evans

at Sheffield United is "a difficult issue".

Introducing a

'Rooney Rule'

in English football is not necessarily something which could be done at the moment.

He hopes to see more

all-weather pitches built,

a change in the coaching system and more people entering 'the coaching pathway' through his grassroots football plan.

Outgoing FA chief executive

Alex Horne

is "a talented man" and the search for his replacement may go beyond football.

As the

FA

celebrates its 151st anniversary, some of its structures need to be reviewed.