Hibernian are plagued by a familiar feeling of regret

By Richard Wilson
BBC Scotland at Easter Road
Last updated on .From the section Scottish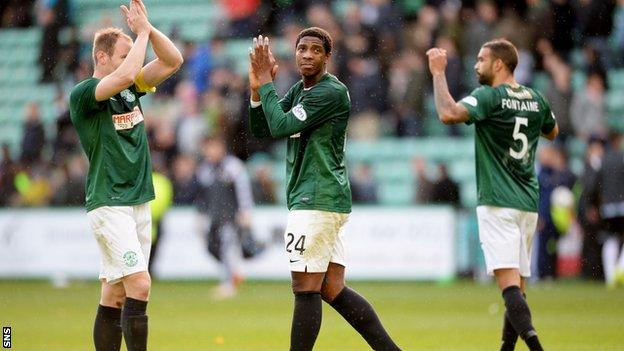 Slumped on their knees, the Hibernian players could only feel overcome by a familiar regret.
Derby matches have become an aching reminder of the club's decline, since even through their own financial turmoil Hearts have always tended to prevail.
So Alim Ozturk's audacious, viciously unexpected equalising strike from all of 40 yards late into time added on was a brutal reminder of old fallibilities for the Easter Road players.
It was also cruelly unfair, since a victory would have been well deserved for Alan Stubbs' side, following a performance that was intermittently guileful, but always industrious and energetic.
There was a sense of Hibs having been rejuvenated, following a faltering start to the campaign, and they pushed Hearts to the brink of losing their unbeaten league record.
Richard Wilson
"The plaudits belonged to Hibs, who rediscovered their mettle along with their poise."
The visitors arrived at Easter Road six points clear at the top of the Championship, with the team having looked powerful, resolute and built with the kind of hard, steely edge that Craig Levein, now the director of football, used to make the typical characteristic of the sides that he managed.
We have come to expect Hibs to be more brittle, more flighty, often talented but also just as likely to be weak and insecure.
There was an element of the latter quality as the second half wore on and Stubbs' defenders slipped further and further back, while only half-heartedly seeking counter-attacking opportunities.
But they had also displayed courage and, for most of the opening hour, a committed sense of purpose.
They established a 1-0 lead, delivered by Dominique Malonga's searing strike high into the roof of the net just before half-time, but it began to seem increasingly fragile as the game progressed.
The wind swirled through Easter Road, and at times robbed both sides of their composure, but it was galling for the home team that they boasted the best individuals on the pitch and performed more cogently as a team, but were still left to rue a late moment of dejection.
That was to be the narrative of the game, which finished 1-1 and left the visitors cherishing their unbeaten record.
Even so, the plaudits belonged to Hibs, who rediscovered their mettle along with their poise.
Stubbs' side was best-served by Scott Allan and Dylan McGeouch, two young midfielders capable of being agile and elusive on the ball.
McGeouch never stopped throughout the game, and provided some aplomb to the gritty defensive qualities of Scott Robertson alongside him in midfield.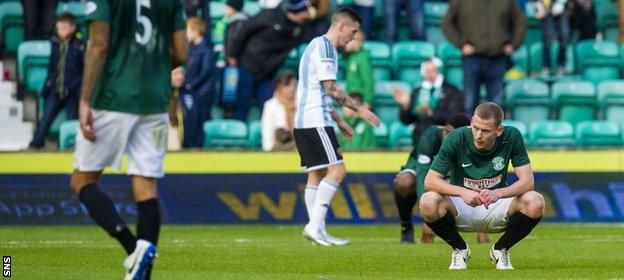 They were joined by Allan, who skipped, spun and darted his way through the match.
Some of his running was too elusive for the Hearts midfielders, and Prince Buaben could only stop one burst towards the penalty area with a brutal trip on the edge of the box.
With Morgaro Gomis sitting deep in the Hearts midfield, and Soufian El Hassnaoui often stranded upfield with Osman Sow, Hearts could only try to offer resistance in the opening half.
That was mostly comfortable while Hibs lacked a ruthless streak. It will be a priority for Stubbs to find a striker who is more reliably clinical than the hard-working Malonga and the inconsistent Jason Cummings.
Even so, the expectation had been that Hearts would overwhelm Hibs, as they have other opponents this season, particularly because Easter Road has been such as welcoming venue in recent season.
Hibs had won only six of the last 22 derby meetings at their own stadium, but they did not approach this encounter like a side inhibited by their surroundings.
Stubbs spoke before kick-off of his players not being afraid of the occasion.
Instead, they were sprightly and even if it could not be said that they dominated possession, they were the most capable team throughout.
The former Celtic man can consider this performance a further indication of the progress of his work, even if it appeared a sign of weakness that the goalkeeper Mark Oxley was clearly time-wasting with every goal kick from the moment the second half kicked off. He was, rightly, eventually booked.
For the Hearts manager Robbie Neilson, the display was perplexing, since the team was not as forthright as it has so often been in this campaign.
Playing El Hassnaoui as a second striker did not work, while the wide players, Sam Nicholson and Billy King, were peripheral.

Yet it is no coincidence that Hearts are effective in the closing moments of games, since they train to be that way.
Callum Paterson's dismissal in the 79th minute for throwing himself into a lunging challenge on Malonga was a reckless act.
Yet it did not quell all of Hearts' fighting spirit. They continued to believe that the game could be redeemed, and that quality alone is valuable over the course of a promotion race. Even so, not every encounter can be rescued by a 40-yard strike from a central defender, with the ball dipping so viciously that it arced over Oxley's reach and went in off the underside of the bar.
The goal carried an unreal quality, not least because Hearts had never looked like scoring one.
This, for all but that final moment, was an occasion for Hibs to savour; players as young as Allan and McGeouch should not be in need of a renaissance, but both have been considered potentially significant talents for so long that the brief stall in their development seemed pointed.
Both were central to Hibs, though, and will continue to be if Stubbs can nurture their talent.
David Gray was excellent at right-back, and Lewis Stevenson solid and dependable on the other flank.
The outcome was not decisive for either side, but Hibs will take more heart from the way that the game played out.
Hearts fans revelled at the end, but on this evidence there will be plenty of more drama to be found in the coming months of the Championship title race.