Man Utd 1-1 Chelsea: Jose Mourinho unhappy with decisions
Last updated on .From the section Football
Chelsea manager Jose Mourinho felt certain decisions went against the league leaders as Manchester United snatched a late draw at Old Trafford.
The Blues took the lead through Didier Drogba, before Robin van Persie equalised in stoppage time moments after Branislav Ivanovic was dismissed.
"The red card, I saw that coming," said Mourinho after the 1-1 draw.
"If I have to speak about [that] I have to speak about the penalty Ivanovic should have been given."
But he added: "I don't want to speak about the penalty on Ivanovic [when the Serb appeared to be wrestled over in the area by Chris Smalling] and the accumulation of yellow cards [for Chelsea].
MOTD2 analysis
Peter Schmeichel:
"Manchester United and Chelsea have excellent young goalkeepers in David de Gea and Thibaut Courtois but, in front of them, things are very different.
Courtois plays behind an incredibly well-organised defence. In contrast, United's back four is full of uncertainty and insecurity, something that was particularly evident at set-pieces at Old Trafford."
Read more: Man Utd disorganised in defence
"I don't want to speak even about throw-ins. If I want to speak I will speak too much - you know I will speak with my heart and get into trouble."
Chelsea face a fine of £25,000 for picking up more than six yellow cards in one match. United were fined the same amount in 2008 for picking up seven bookings in a game at Stamford Bridge.
Mourinho was, however, positive about his side's display and said they had undergone an "evolution" since he took charge of the west London club for the second time at the start of last season.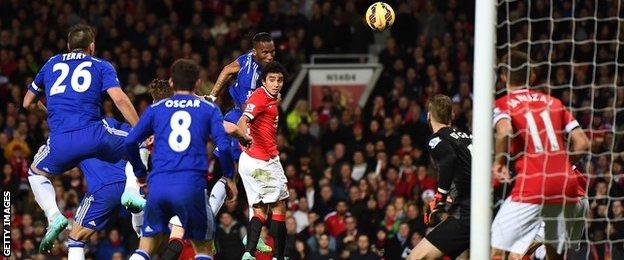 Asked whether champions Manchester City's defeat at West Ham on Saturday had benefited his side, the Portuguese said: "We don't look to others, we look to ourselves.
"Old Trafford is one of the most dangerous fixtures we have. The result is not the result we want, but the way we performed means we don't need to look to others," he said, with Chelsea six points ahead of City and four clear of second-placed Southampton.
"Don't forget we have also played away at Manchester United and Manchester City.
"We are going in a good direction."
After an even first half, Chelsea dominated, with Eden Hazard going close before Drogba scored.
"The second half was much better," added Mourinho.
"From the start of the first half we showed we wanted to win. In the second half we didn't give them the chances they wanted. To come here to Old Trafford the way we did - it was fantastic by my boys."