Sampdoria's Massimio Ferrero apologises for Erick Thohir remark
Last updated on .From the section Football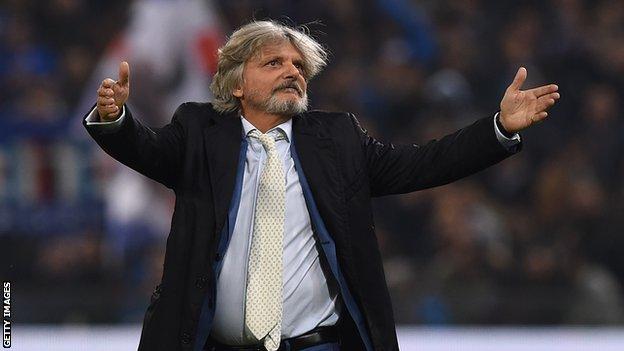 Sampdoria president Massimo Ferrero has apologised for referring to Inter Milan's Indonesian owner Erick Thohir as "that Filipino".
Ferrero made the comment in an interview when discussing Massimo Morratti's recent decision to resign as the club's honorary president.
"I am very sad for him," he said. "I had told him: kick out that Filipino."
Ferrero later said he "did not mean to disrespect" Thohir, Inter directors or the people of the Philippines.
"I was trying to praise Massimo Moratti and all he has given to Inter and Italian football for 20 years," Ferrero said in a statement.
Moratti had been Inter president for 18 years before Thohir replaced him last year after buying a majority stake in the Serie A club.
Moratti was then handed the honorary title, but resigned on Thursday.
Earlier this month, the president of the Italian football federation (FIGC), Carlo Tavecchio, was banned for six months by Uefa for making racist remarks.