MOTD2 analysis: Man Utd let down by disorganised defence
Last updated on .From the section Football

MOTD2 pundit and former Manchester United goalkeeper Peter Schmeichel expands on his TV analysis of how United lack Chelsea's discipline in defence after seeing them rescue a draw against the Premier League leaders at Old Trafford.
Manchester United might have snatched a late point against Chelsea on Sunday but the game still highlighted the big difference between the two teams defensively and showed why Jose Mourinho's side are so far ahead of them in the table.
Both teams have excellent young goalkeepers in David de Gea and Thibaut Courtois but, in front of them, things are very different.
Courtois plays behind an incredibly well-organised defence. In contrast, United's back four is full of uncertainty and insecurity, something that was particularly evident at set-pieces at Old Trafford.
Familiarity the way forward at the back
United's pairing of Marcos Rojo and Chris Smalling was the eighth different centre-half combination Louis van Gaal has used in nine Premier League games.
Man Utd's centre-halves in the Premier League 2014-15

Who played together?

Minutes

Conceded

Rojo-McNair

180

2

Evans-Blackett

120

1

Smalling-Blackett

105

5

Rojo-Jones

90

2

Rojo-Smalling

90

1

Jones-Evans-Blackett

90

0

Jones-Smalling-Blackett

89

2

Jones-Keane-Blackett

46

0
Chelsea have used one - John Terry and Gary Cahill - who have played all 810 minutes of their league matches so far.
Cesar Azpilicueta was suspended and missed the Old Trafford clash but, until he was sent off in the first half of their win over Crystal Palace last week, Chelsea's entire back four had remained unchanged throughout every league game.
Speaking as a former United goalkeeper, I know that kind of settled line-up makes a huge difference when you are defending as a unit - and I am talking about the goalkeeper here too, not just the back four.
If you break attacks down into situations involving, say, triangles involving three defensive players, then you are obviously in a much better position when each of you understands the strengths of the other individuals.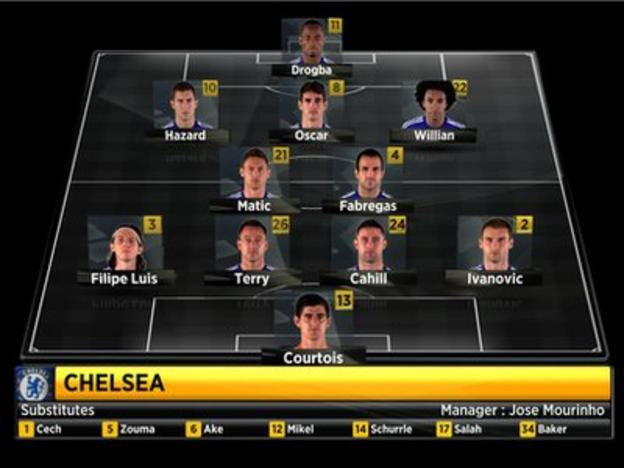 For example, as a goalkeeper, if I am in a situation with my two centre-halves, or with a centre-half and full-back, I want to know who is fast, and who is good at heading and tackling.
Also, they need to know if I am good at closing down angles and if they can push attackers into certain areas because of that.
Chelsea did that in the second half against United, when Courtois saved Van Persie's shot from out wide; he was there and waiting for it.
I remember being in that position and waiting for the guy to shoot and knowing you are going to save the ball because your defenders have pushed the attacker into an absolutely perfect situation for you.
To get that kind of relationship, you need to play together all the time, which is why you see the best teams in the world rotate their forward players far more than their defenders.
United look a long way off it at the moment.
United's defence need to take responsibility
On Sunday, De Gea played exceptionally well and was trying to bring some sort of stability to their defence with the way he controlled his six-yard box and came for crosses.
But, whoever is in Van Gaal's defence, he does not seem to have enough commanding players who can stand on their own two feet.
He needs a centre-half who can take the team by the scruff of the neck and say "this is what we need to do". That player is not in their squad yet.
In my time at United, we always had defenders who were leaders and who took responsibility. For various reasons, that is not the case at the moment.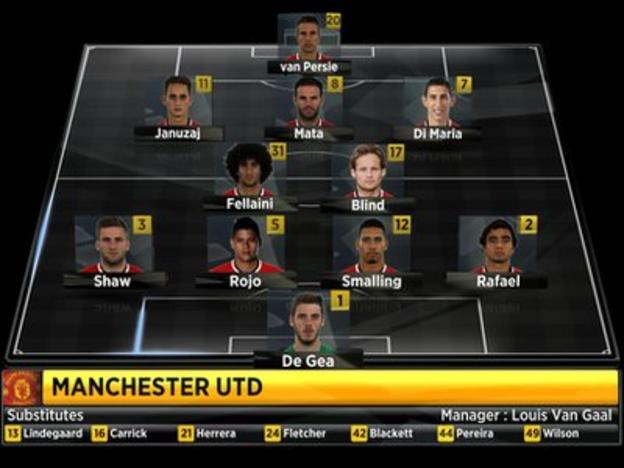 Rojo and Smalling had never played together in the centre of defence before the Chelsea game, but that was not their only problem.
I am not convinced Rojo is a centre-half. He doesn't look like one, and he does not have that calmness about him.
He looks more like a very aggressive left-back or left-sided midfielder, and he plays like one too.
Against Chelsea, he was playing passes up through the middle of the pitch, which you only do when you are a full-back and playing up the line, and he was giving the ball away.
Alongside him, Smalling has never really stamped his authority on the team as a centre-half.
He looks a bit nervous and insecure in that position. I would like to see him play next to someone who is big and strong, and who can direct him, because Smalling would be perfect next to someone like that.
But Smalling is not a leader and it is not good for United for Smalling to play next to someone like Rojo, who is insecure as well.
What did not help Smalling was seeing Rafael booked after 12 minutes of the match.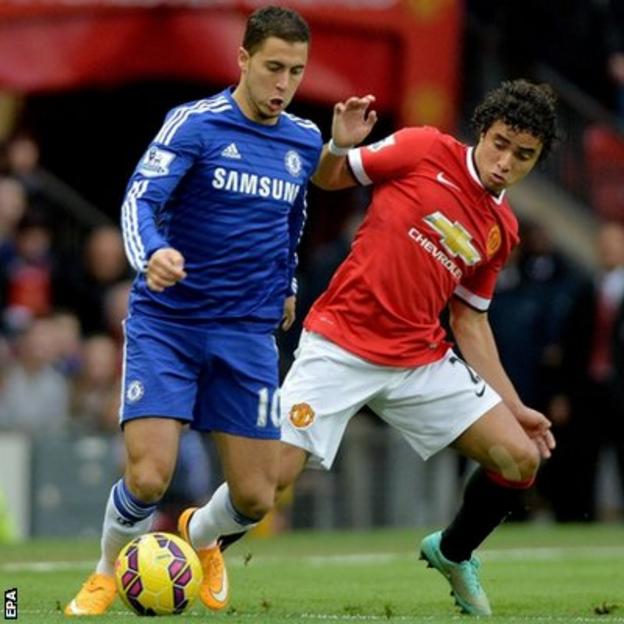 From the start, it was obviously a clear tactic from Chelsea boss Jose Mourinho to put Eden Hazard down that flank to irritate Rafael. It was also obvious from the start that it would work.
Once Rafael was shown a yellow that added to the insecurity of the United defence because they knew that, next time Hazard ran at Rafael, he cannot do anything.
Stopping him becomes another job for Smalling, who has enough to deal with.
These problems at the back have consequences for United further up the field too.
Any attempt to build a successful team starts with getting the defending right - it was always our first priority during my time at the club.
It is not the case that you want to be a defensive team but you have to have some security in order to allow others to go on and create goalscoring opportunities.
For as long as I can remember, United's mantra has been to be really brave and to attempt things in attack that others would not.
But players can only do that if they know that, if they take that gamble and try something special, then if the ball breaks up the other end they have got the players who are capable of dealing with it.
At the moment, their players look afraid of losing the ball.
De Gea has developed into top-class keeper
David de Gea's form is one of the few positives Van Gaal can take from his side's defending since he took charge.
This season, he has made some stunning saves against Sunderland and Everton, as well as against Chelsea to deny Hazard moments before Didier Drogba put them ahead.
At 23, he is only a year older than Courtois and they have lots in common - as well as the fact both of them have played for Atletico Madrid - they have won domestic titles, won the Europa League and played around 200 first-team games at a young age.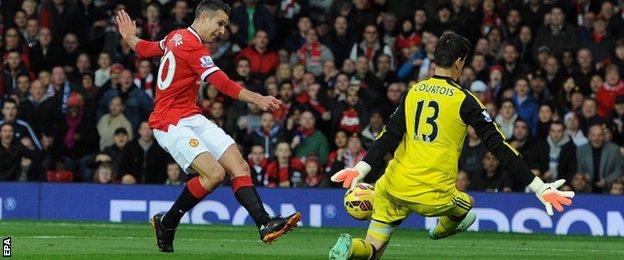 Their career development has not quite been the same, because Courtois has played in a Champions League final, is an established international for Belgium and has starred at a World Cup.
He has arrived in the Premier League with all that experience, whereas De Gea had to learn while he was being put through the mill by the British press, right from the moment he arrived at Old Trafford.
For a few months it felt like there was a story every day about how bad he was, and I think that has really toughened him up.
He has got better at every aspect of goalkeeping. Shot-stopping is something he excels at but I would like to see him stand out in other areas too.
De Gea is adding that authority to his game but I want to see him be more commanding and more of him pushing his team further forward, which is what he did against Chelsea.
There was nothing he could do about their goal, which came from the corner after his brilliant save denied Hazard.
There were so many mistakes that led up to that chance - Smalling tries to tackle Hazard and Rojo is just looking round, rather than covering him.
De Gea got them out of jail but even then his defence still lost concentration, and no manager in the right frame of mind would tell Rafael to go with Drogba, which is what happened.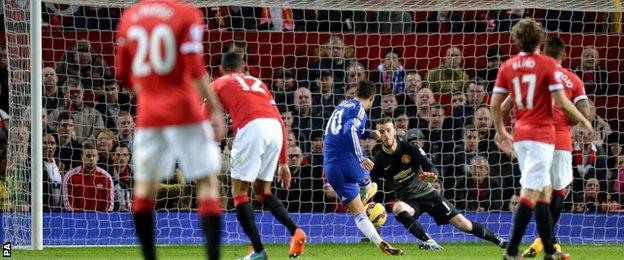 In the end, Chelsea also conceded a goal because of a lack of organisation at a set-piece but that was under slightly different circumstances.
The way they lined up for a similar free-kick 20 minutes earlier, they had their small players stood away from the goal and their six-footers - Drogba, Branislav Ivanovic, Terry Cahill and Nemanja Matic stood in a line across the area.
At the free-kick where United equalised, Ivanovic has been sent off and where he would have been was exactly where the goal was scored from.
With him on the pitch it was hard to see United finding a way through.