Rangers: Derek Llambias and Barry Leach become consultants
Last updated on .From the section Football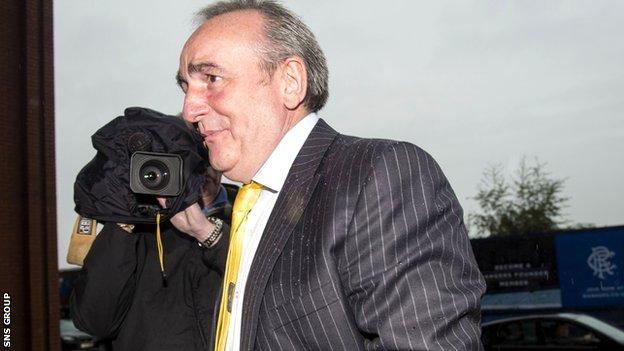 Former Newcastle United manager director Derek Llambias and Sports Direct executive Barry Leach have been appointed as consultants by Rangers.
It is unclear how Llambias' role relates to him applying to become chief executive, the vacancy created by Graham Wallace's resignation on Monday.
Lambias was at Ibrox on Tuesday to watch Rangers beat St Johnstone 1-0 in the Scottish League cup quarter-final.
Newcastle owner Mike Ashley last week agreed a £2m emergency loan to Rangers.
Leach is head of brands with Sports Direct, the retail company owned by Ashley.
Chairman of the plc board David Somers said he had invited Llambias and Leach to the club, without providing details of their roles, simply saying: "Things will turn out for the best, it's good to get new investment in the club."
Llambias, who left Newcastle in June 2013, had told reporters at Glasgow Airport: "Mike Ashley has got a great track record, but I can't give you any comment. I'd love to, but I can't."
Under Stock Exchange rules, Llambias, whose business background includes work in the entertainment and leisure sectors, must go through an application process if he is to be Wallace's replacement.

Wallace, who was appointed in November 2013, follows finance director Philip Nash in leaving the Championship club, with Paul Tyrrel also leaving his public relations position.
Ashley, whose loan is secured against Edmiston House and the Albion car park, had wanted Wallace and Nash removed from the board.
Fans group Sons of Struth organised a boycott of Tuesday's match, with Sandy Easdale, chairman of the football board and key shareholder, the target of their ire.
But co-founder Craig Houston also expressed concerns about Llambias and a previous link to former chief executive Charles Green.
"In February 2012, he was introduced to our fans at a meeting by Charles Green to explain why changing the name of your stadium wasn't actually that bad an idea," he told BBC Scotland.
"I find it bizarre that of the thousands of people who could be directors of our club we again find one with a connection to Charles Green."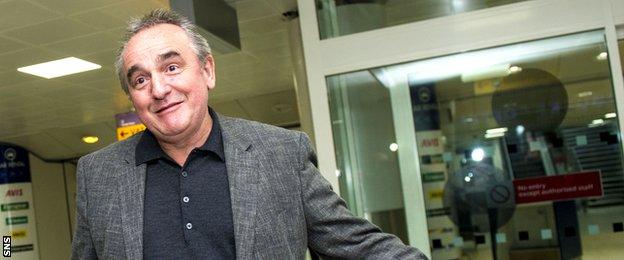 Ashley - who owns 8.92% of the Championship side - saw off rival offers of funding from former Rangers director Dave King and Sale Sharks owner Brian Kennedy.
"The board is pleased to announce that the company's subsidiary, The Rangers Football Club Limited, has entered into a credit facility agreement with MASH Holdings Limited pursuant to which MASH shall make available the sum of £2m for drawdown by the company," a Rangers statement to the Stock Exchange read.
"MASH is a shareholder in the company holding 8.92 per cent of the voting rights in the company. The facility shall be secured by standard security granted by the company over Edmiston House and Albion car park.
"The facility shall be for a six-month term and is interest-free. The facility will be used by the company for general working capital purposes. Under the terms of the facility, MASH has the right to appoint up to two directors on the board of directors of RFCL."