Rangers: Sandy Easdale backs Mike Ashley to bring stability

By Chris McLaughlin
BBC Sport
Last updated on .From the section Rangers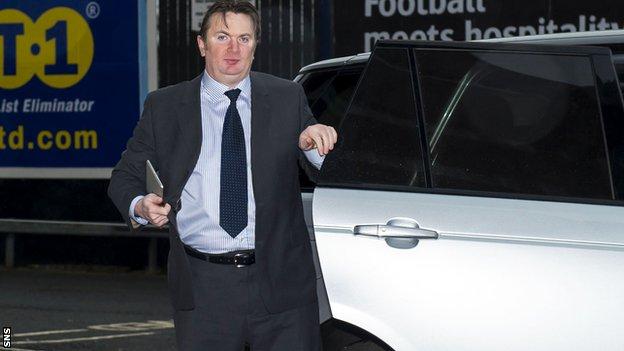 Sandy Easdale says Mike Ashley should bring financial stability to Rangers and revealed there are no plans to change the manager.
The chairman of the football board spoke following reports Ally McCoist's position could be under threat.
Mr Easdale also said the plc board acted in the best interests of the club by accepting Ashley's £2m loan.
"Mike's a very wealthy individual and he really does want to help the club," said Easdale.
"I can only see it being a good thing," he added on the day when chief executive Graham Wallace resigned from his post.
"The plc board did their duty and their due diligence accordingly and I would say they've done what's in the best interests of the fans, the club and the shareholders.
"I would hope so [it will bring stability], we've got to look forward now. The fans have heard so much over so many years but I can only say we've got somebody who is interested in helping the club and we can only look at it as a positive thing."
Sandy Easdale
"We've not got any ideas of changing the manager so that's not on the agenda."
BBC Sport understands the former managing director of Newcastle United, Derek Llambias, is likely to become the new chief executive of Rangers.
Llambias is a long-term business associate of Ashley and will fly into Glasgow over the next 24 hours for talks about the position.
On the reports about the manager's position, Easdale added: "I've not spoken to Ally, he is the manager and he continues to be the manager. We've not got any ideas of changing the manager so that's not on the agenda."
And McCoist revealed he has held talks with plc chairman David Somers and Easdale.
"Having spoken to both gentlemen, they have confirmed to me that they want me to continue my job as Rangers manager," he said.
McCoist also thanked Wallace for his work at the club and welcomed Ashley's investment.
"The news of Mike's involvement is good news. Of course it is good news," he added. "I've said all along the club needs investment, so we've got it.
"Change is always a concern but I have been told that this change is moving the club forward, which is absolutely fantastic."
Easdale also revealed that Ashley has "not intimated" to him that he wants full control of the Ibrox club. The Newcastle United owner has an 8.29% stake in Rangers and has an agreement with the Scottish Football Association that he will not increase that beyond 10%.