Truro City coach Wayne Carlisle hopes win generates momentum
Last updated on .From the section Football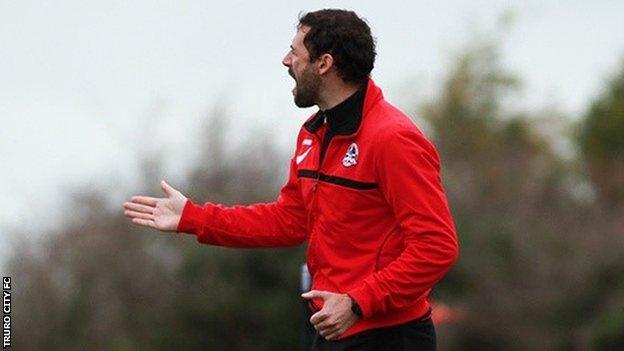 Truro City assistant manager Wayne Carlisle is hoping his side can generate momentum after their second successive Southern Premier League win.
Barry Hayles gave the White Tigers a 1-0 win over Cambridge City.
"We're trying to generate that momentum and get it going forward, as opposed to it going against us in the last month," Carlisle told BBC Radio Cornwall.
"We've got a tough month coming up so the two wins we've had in the last two games are important."
The two wins coincide with manager Steve Tully's decision to select himself in the side.
City have not conceded a goal since the former Exeter defender returned to the team after a 2-0 win over Paulton Rovers last week.
"Steve's got fantastic experience and he knows the game inside out," said Carlisle. "Playing back there, he reads it so well and he moves people around. It's just organisation and composure that helps people settle."
The win lifts City up into fifth place in the Southern Premier League.