Giant-killers Warrington Town want more FA Cup history
Last updated on .From the section Football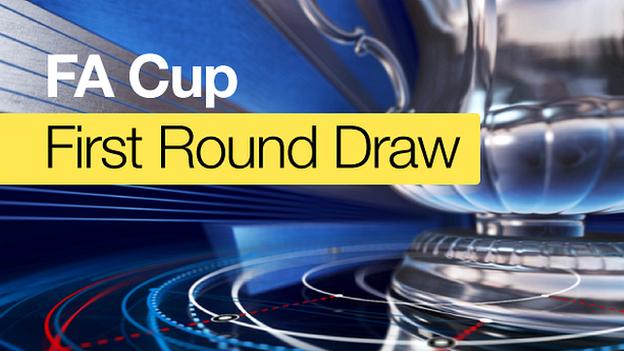 Northern Premier League side Warrington Town aim to continue making history after reaching the first round proper of the FA Cup for the first time.
Eighth-tier Wire go into Monday's draw hoping to further raise the profile of the club on Merseyside and beyond.
Chairman Toby Macormac told BBC Radio Merseyside: "We have 210,000 people living in a town with no Football League club.
"We need [a draw] where an upset could happen again."
Warrington, managed by Shaun Reid - brother of former England international Peter - beat North Ferriby United 1-0 on Saturday, with the winning goal scored by full-back Lewis Field.
Field, a fitness instructor, told BBC Radio Merseyside: "Before we went out we fancied it. We had to deal with a lot of pressure towards the end, and it was a great relief when the whistle finally went.
"Whoever we get, if they're full-time, it's going to be hard, but we'll have anyone."
Macormac said FA Cup progress would help the club's league campaign.
At present Warrington are 15th in First Division North but have as many as five games in hand on some of the teams above them, in part because of the cup run.
"It's a massive boost financially," Macormac continued. "When eventually we get back to the league programme it is something that will support that, it gives us the chance to strengthen in some areas, especially if we're up there in the play-offs."
League One and League Two clubs, including Sheffield United, 1987 winners Coventry and 2008 winners Portsmouth come into the competition at this stage, throwing up the potential of a lucrative tie against big-name opposition.
"There's been mention of Sheffield United and Preston and Tranmere, but for myself, because if you like we're official giant-killers now, we need something where that upset could happen again, when there's the possibility of TV coverage, because if you get that you really put yourself on the map.
"You always want a home tie - anything that would raise the profile of the club. We'll milk it for everything we can get to put the club further and further in the public eye. It's great for the players too, they all have jobs to do, that's the magic of the FA Cup, it's fantastic for non-league."
Warrington's FA Cup run started started on 30 August when they beat Barton Town Old Boys in the Preliminary qualifying round.
Nearly 700 made their way into Cantilever Park to see the match against North Ferriby, a figure almost four times greater than Warrington's average attendance.