The sack race: Are chairmen running out of patience?
By James Gheerbrant & Andy Cryer
BBC Sport
Last updated on .From the section Football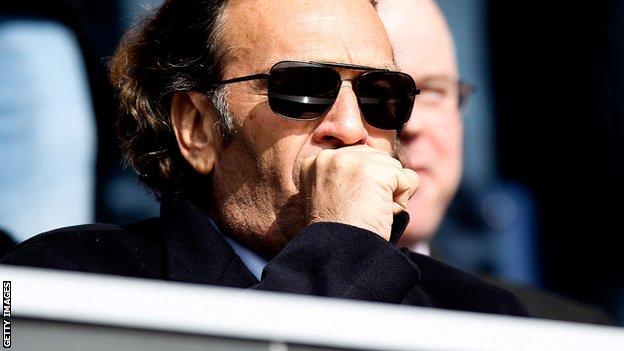 With the sacking of Jose Riga at Blackpool, the number of managerial departures in English football this season rose to 23.
The man wielding the axe on that occasion was Elland Road chairman Massimo Cellino, a man who once earned himself the nickname 'The Manager Eater' after disposing of no fewer than 36 managers during 22 years in charge of Italian side Cagliari,
But Cellino - and Blackpool's Karl Oyston - are not the only club bosses who send a chill running down managers' spines.
BBC Sport takes a closer look at whether chairmen are more impatient than ever before.
Who are the most 'trigger-happy' chairmen?
Notts County chairman Ray Trew would not be the most obvious candidate as football's most trigger-happy chief.
But, from the start of the 2009-2010 season, League One Notts County have had the most managers in English football - Shaun Derry is their ninth - and Trew has overseen six departures since becoming chairman in February 2010.
Trew, who was previously at Lincoln, has sacked Chris Kiwomya, Keith Curle, Martin Allen and Craig Short, with Paul Ince leaving by mutual consent. His first manager, Steve Cotterill, resigned.
Trew is not the only chairman with a penchant for replacing managers, though. A total of 268 changes have happened between the start of the 2009 season and now, according to the League Managers Association.
The hottest hot-seats in English football (number of managers since the start of 2009-2010)

Notts County - nine

Crystal Palace - seven

Watford - seven

Nottingham Forest - seven

Portsmouth - seven

Bristol City - six

Hartlepool - six

Sheffield United- six

Scunthorpe - six

Leeds United - five
Raffaele Riva, who became chairman of Watford in July 2012, is on to the sixth manager of his reign, although only Sean Dyche has been officially sacked during the Italian's tenure. The Hornets have already had four managers this season, albeit Oscar Garcia's departure in September was due to health reasons.
"Managers and chairmen have to have a relationship," said former Wimbledon boss Dave Bassett, who managed eight clubs between 1981 and 2005. "If they can't get on, you have a real problem. Some chairmen think removing the manager is the way to solve problems and then, six months later, they find out it isn't."
Crystal Palace have had seven managers since the start of Steve Parish's reign in 2010, with the Eagles also having the shortest average duration of managers - 1.14 seasons - of the current Premier League clubs since its inception in 1992.
Nor is instability confined to league football. Gary Brabin is Southport's fourth manager in the last 18 months in the Conference Premier under Charlie Clapham.
Which chairmen live up to their reputation?

Some more than justify their reputation as ruthless operators. Take Tottenham chairman Daniel Levy. The businessman arrived at White Hart Lane in 2001 and eight permanent managers came and went before Mauricio Pochettino was installed this summer.
Milan Mandaric employed eight bosses during an eight-year spell at the helm of Portsmouth, then repeated the bloodshed at Leicester City, getting through seven managers between February 2007 and his departure in November 2010.
But in the case of some chairmen, the statistics perhaps make for more surprising reading.
Until Riga's exit on Monday, the unpopular Oyston's record of eight permanent managers in 15 years at Blackpool compared favourably with most of the clubs currently in England's second tier.
Then there is Aston Villa's long-time chief Doug Ellis, whose nickname of 'Deadly Doug' was thought by many to refer to his ruthless firing of managers. But Ellis had just 11 bosses in his 24-year reign from 1982 to 2006. The nickname was actually conferred by Jimmy Greaves in reference to his prolific salmon-fishing outings.
Which league is the most dangerous?
With its ferocious relegation dogfight and ruthless billionaire owners, you could be forgiving for thinking that the Premier League would be the most cut-throat of England's four divisions. But in fact it is the Championship that is the most dangerous place to be a manager.
The second tier has had a rate of just over one departure a month since the start of the 2009-10 season if you include the summer. With Christmas still two months away, 11 managers have already gone in the second tier.

By contrast, the Premier League has had just 43 managerial departures since 2009/10 - the lowest of any of the four divisions. However, when the top flight's smaller number of clubs is taken into account, it rises to third place behind League One, which has claimed 58 managers.
Perhaps surprisingly, the division with the most job security is League Two. Relegated clubs drop out of the professional pyramid but chairman are the most patient in England, with only 48 managers having left in the last five seasons.
Aside from Arsenal's Arsene Wenger, League Two contains the two longest-serving managers in English football: Paul Tisdale, who has spent eight years at Exeter, and Mark Yates, who is approaching five years at Cheltenham.
Are chairmen getting more impatient?
It is hard to escape the feeling that the managerial merry-go-round is spinning faster than ever. "Managers are simply not given enough time," Richard Bevan of the League Managers Association said last week. "It is almost a case of 'it can't get any worse'."
However the statistics suggest that, over the last 10 years, the number of departures in the Football League has remained fairly constant, rarely departing much from an average figure of around 50. Although 2012-13 had a record 60 changes in the Football League, last season's tally of 44 was unusually low.
Total managerial changes

Season

Premier League

Championship

League One

League Two

Total

2014/15

1

11

4

7

23

2013/14

9

18

8

6

44

2012/13

10

19

17

14

60

2011/12

11

9

10

9

39

2010/11

12

14

19

10

55

2009/10

12

7

18

11

48

2008/09

13

16

12

10

51

2007/08

14

12

9

15

50

2006/07

10

17

13

4

44

2005/06

8

11

14

15

48
In fact, in the Premier League, there is a clear trend in favour of increased stability. Since the high of 14 departures in 2007-08, the number of managers replaced has declined steadily year-on-year, with just nine changes made in the top flight last season. So far this term, only Tony Pulis at Crystal Palace has left his job.
However, it is not all good news.
"It seems to me as though there is more short-termism than there used to be," said Bassett. "Owners want to be the centre of the attention, whereas when I started they were happy to run the club and give the manager a chance."
Around the globe

Spare a thought for anyone appointed boss of Italian Serie A club Palermo.
Under the control of Maurizio Zamparini, the club have changed managers 32 times since 2000. In 2012-13, it had three coaches - two of whom were sacked before being re-hired during the campaign.
Department store tycoon Zamparini has kept faith with current boss Giuseppe Iachini since September 2013, following the sacking of former Italy midfielder Gennaro Gattuso after just six games in charge.
In the international game, Miguel Herrera was Mexico's fourth manager in six months when he was appointed in October 2013 and not only guided them to the World Cup but also got them out of the group stages.
Whether Leeds can emulate that sort of turnaround under their fourth boss of 2014 remains to be seen. But Bassett believes managers should think very carefully before becoming the latest occupant of the Elland Road hot-seat.
"If you have a brain as a manager you think very hard before going to Leeds now," he said. "I couldn't deal with people like that because you would know you can't win."