CSKA Sofia coach knocked 'unconscious' by Levski snowball
Last updated on .From the section European Football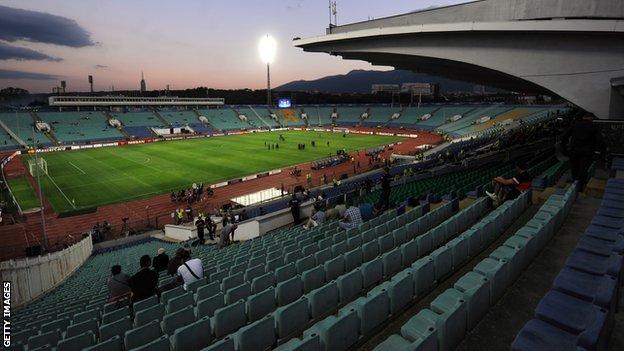 Levski Sofia fans say CSKA Sofia coach Stoycho Mladenov exaggerated his injury after being hit by a snowball thrown from a Levski section of supporters.
Mladenov collapsed early on in his side's 3-0 win and later claimed he had lost consciousness.
"Children play with snowballs but I haven't heard of anyone who has collapsed," said Vladimir Vladimirov, the head of Levski's national fan club.
"It was disgusting to watch, his over-acting was so poor."
Mladenov said he had a medical document to prove his injury and would produce it for the Bulgarian Football Union (BFU) if they requested it.
"They (Levski fans) began to throw snowballs at us from the start of the game," said CSKA assistant coach Anatoli Nankov.
"We informed the fourth official but he said that their behaviour was normal."
After their team conceded the third goal, Levski fans were prevented from getting on to the pitch by more than 100 policemen.
The BFU's disciplinary committee will discuss the snowball incident on Tuesday.