Zambia women stage protest over unpaid allowances
Last updated on .From the section Football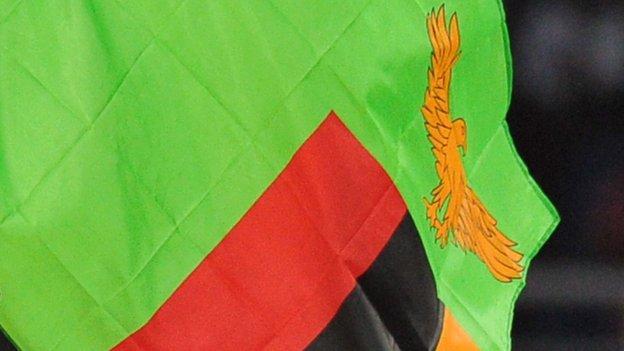 The Zambian women's national team players are refusing to leave the Football Association of Zambia (FAZ) technical centre until they are paid allowances they say are owed to them.
The players have been at the centre since their return from the African Women Championship in Namibia two weeks ago.
"Before going to Namibia, we were in camp for a month and after that, we spent two weeks in the tournament. Yet we have only been paid about US$15 as transport refunds," said one of the players on condition of anonymity.
"It's now over a week since we returned from Namibia yet these people who are supposed to pay us don't see anything wrong with paying us $15 after being away from our families for seven weeks.
"We are not going to leave this centre until we're adequately paid.
"Football in Zambia should not just be a man's sport. It's actually very upsetting the sports minister can say government is only responsible for paying the men's team."
The players have also complained they do not even know how much their allowances will amount to because they have no signed contracts with FAZ.
"Football is everything to us and we have families to support," added one of the players.
"If these people have a heart for us, they should give us at least $2,000 for qualifying for the tournament for the first time in our country's history.
"It's like we no longer matter to FAZ. Last night for instance, some of us only had small portions of Nshima [staple food] with fried eggs.
"They want to punish us until we leave this place on our own but we wont do that until they pay us."
FAZ spokesperson Nkweto Tembwe said: "We owe them money - and we have never said we don't owe them. The money shall be paid to them as and when it is ready.
"This afternoon (Monday), we went to talk to them and they have all agreed to leave the technical centre - and we've told them that we will pay them when we have the money.
"But we will not condone being held to ransom - nor the level of indiscipline. The route our ladies wanted to take is the route of indiscipline.
"They are not the only team that have not been paid - we have three teams who have also not been paid. Under-17 and Under-20 men's team. Throughout this year, we have had almost all the teams in camp and that has put a strain on our budget."