Nigeria given deadline to avoid seven-month ban
By Oluwashina Okeleji
BBC Sport
Last updated on .From the section Football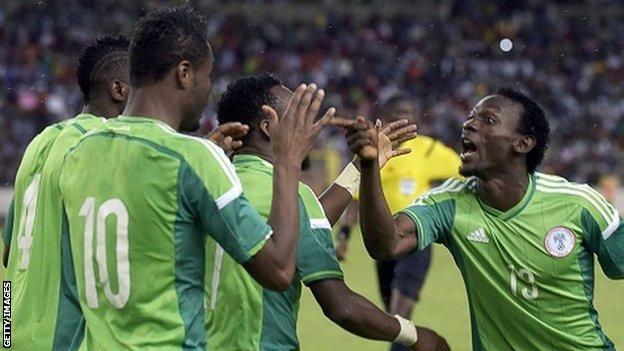 Nigeria have been given until Friday to overturn a recent court ruling that voided its football elections or Fifa will ban them until May 2015.
In a letter sent to the Nigerian Football Federation on Tuesday, Fifa said their directive must be met by midday, 31 October.
Fifa wants the reinstatement of the NFF board that was elected on 30 September.
If Nigeria fail to comply, they will be expelled from qualification for next year's Africa Cup of Nations.
The Super Eagles are the reigning champions but are now facing the very real prospect of missing the chance to defend their title at the 17 January to 8 February finals.
Already this year, Nigeria have been banned for government interference in the NFF and Fifa warned the country in September and again in October that another incident would result in a lengthy ban.
Fifa's action follows last week's ruling by the Jos High Court annulled last month's election of Amaju Pinnick as Nigeria Football Federation president.
Justice Ambrose Allagoa ruled that the elective congress of the NFF should not be recognised as the Jos High Court had put in place 11 days earlier an order that the elections could not be held.
This injunction was brought by two members of the previous NFF executive led by Chris Giwa, which was stripped of its authority after elections that took it to power on 26 August were deemed invalid by Fifa.
The court order was ignored by the NFF, which went ahead with their congress and the Pinnick-led executive was put in place.
Justice Allagoa has ruled, however, that the original injunction remains in place and therefore the 30 September congress should not be recognised.
Fifa's letter said: "As stated in our previous letters, Fifa stressed that should the electoral process and the instalment of the newly elected NFF board be affected by any interference, the case would be brought to the attention of the appropriate Fifa bodies for a suspension of the NFF until the next Fifa Congress due to take place on 28 and 29 May 2015.
"We thus hope that by Friday midday, we will receive the requested evidence in order to avoid the adverse consequences of a suspension."