Ashley Williams says 'no half-time shirt swap' with Mario Balotelli
Last updated on .From the section Swansea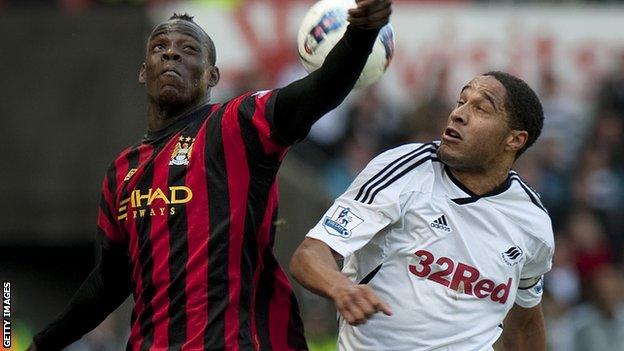 Swansea City captain Ashley Williams says there is no chance he will swap his shirt at half-time with Liverpool striker Mario Balotelli.
The striker was substituted at the break but could play against Swansea in the League Cup at Anfield on Tuesday.
"If you see me swap shirts at half-time give me a slap," said Williams.
Balotelli, 24, made the exchange as his side trailed Real by three goals but after the game Rodgers said: "It is not something I stand for."
The Italian has frequently run into controversy since he first moved to the Premier League with Manchester City in 2010.
Williams, 30, clashed with the former Inter Milan forward during Swansea's 1-0 defeat to Manchester City in 2012 but is looking forward to facing Balotelli again.
"Everyone's got an opinion on him, [but] I think he's a good player [and he] seems like a nice guy whenever I come up against him," said Williams.
"He hasn't really found his feet yet but I'm sure it's only a matter of time, he's a top quality player."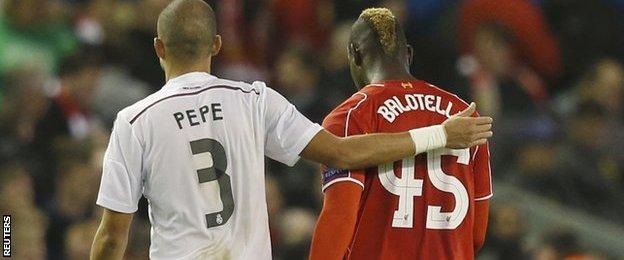 The Swans beat Liverpool 3-1 at Anfield in the same competition in 2012 and Williams is optimistic of a similar result this time.
"Of course we can do it again. We feel we can go and win anywhere," he said.
"It's a brilliant game for us to play in. Every time you get an opportunity to play at one of the top stadiums you've got to take that opportunity.
"They're a good team, they've got good firepower behind the striker. [But] we'll go with our game plan and try and win."
Garry Monk's side ended a five-match winless Premier League run by beating Leicester 2-0 on Saturday thanks to two Wilfried Bony goals.
Monk said the win lifted the pressure off the team and Williams was relieved to get back to winning ways too.
"It was quite clear we needed a win. We've had the performances without getting the win," he said.
"The main thing was we've got the points in our back pocket."