BBC Sport - Wembley ticket sales 'awesome', says women's boss Sampson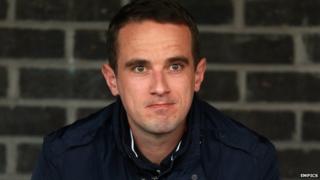 Awesome Wembley ticket sales - Sampson
England women's manager Mark Sampson says that advanced ticket sales of 33,000 for the friendly international against Germany are "awesome".
The FA have confirmed that the game on 23 November will be played in front of a record crowd for an England women's international in this country.
Those sales come on the back of Sampson's team winning all 10 of their qualifiers for next year's World Cup Finals in Canada.
"A lot of people have connected with this team," Sampson told BBC Sport. "We're playing in a way that excites people."
Mark Sampson was talking to BBC WM Sport's Rob Gurney at the Football Association's national training headquarters at St George's Park.
Postbox promo hyper - BBC B'ham & Black Country