Matt Bloomfield column: When Rob Lee forgot FA Cup schedule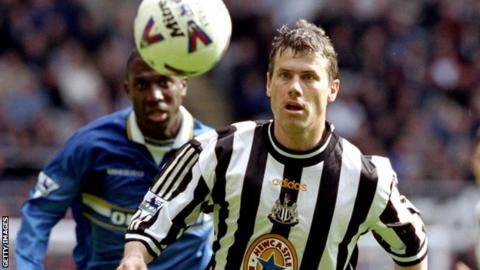 "Doesn't the FA Cup start in January?"
That was what former England and Newcastle United midfielder Rob Lee asked his Wycombe team-mates back in November 2005. It was at that moment he realised the true magic of the FA Cup.
I'm sure Rob was messing us about, but it had the lads in the physio room in stitches. Having spent most of his career in the top flight, the FA Cup had never started for him until January.
In fact it all gets going in August with all the preliminary rounds - both of my brothers played in that round this year.
I love the FA Cup with all its history and the special feeling that you get arriving at the ground before a game. Even at home, it's the same ground, with the same supporters, and sometimes against a team from the same division - but there is always something special in the air.
It's fantastic that the BBC have got the rights back for the FA Cup and are really making a big deal of it this year. My excitement started while watching the draw on Monday, and it will have grown even more by the time the first round approaches on 8 November.
Wycombe are obviously well known for their Cup run in 2001 that resulted in the semi-final against Liverpool at Villa Park. However, this was two years before I signed, and since then we have not even reached the third round.
The hope from the first round draw is always to get a home tie. If that's not possible then the players are always wanting a tie that's not too far from home.
We have got the latter this year. We will go to either Chelmsford or Barnet.
An away tie at a non-league ground is one of those where we have everything to lose. The crowd will turn up hoping, almost anticipating, an upset. But we will look forward to the task in hand.
The biggest non-league shock we have suffered in my time at the club was at Eastwood Town under Peter Taylor in 2008. I was recovering from an injury and did not make the trip, but it was a typical tie where anything can happen.
Everyone was obviously down - but we went on to get promoted to League One, which helped us get over it somewhat.
We also escaped from Hayes and Yeading by the skin of our teeth in 2010, when we needed a last-minute winner from our current gaffer Gareth Ainsworth. So we know what we will be in for at either Conference side Barnet or Conference South Chelmsford.
FA Cup first round facts
First-round winners will receive £18,000 in prize money
League One leaders Bristol City, the highest ranked side at this stage of the draw, are away to Gillingham
Northern Premier League Division One North side Warrington Town and Conference South team Gosport Borough are appearing in the first round for the first time
Three-time FA Cup winner Phil Neville made the draw along with Derbyshire FA's Community Coach of the Year Tammy Snape before a 300-strong audience at the National Football Centre at St George's Park
One tie that catches the eye is Preston's visit to either Canvey Island or Havant & Waterlooville. Preston are riding high in League One and have a wonderful history in the FA Cup, but both Canvey and Havant will look forward to the opportunity to make their own memories on their own patch.
Exeter will not be relishing their long journey north to Warrington - I was glad we didn't have to clock up that 340-mile round trip - and neither will Colchester about travelling to Gosport. The BBC will be hoping for some shocks wherever they come. That's why the cameras will be at all the grounds up and down the country.
I would absolutely love to get to the third round this season and for this squad to create our own magic and our own history in this world-famous competition. First off though, we will be awaiting the result of Chelmsford and Barnet's replay on Tuesday. The glamour of the Cup is here.