Jess Fishlock: Wales boss Jayne Ludlow will inspire hard work
Last updated on .From the section Football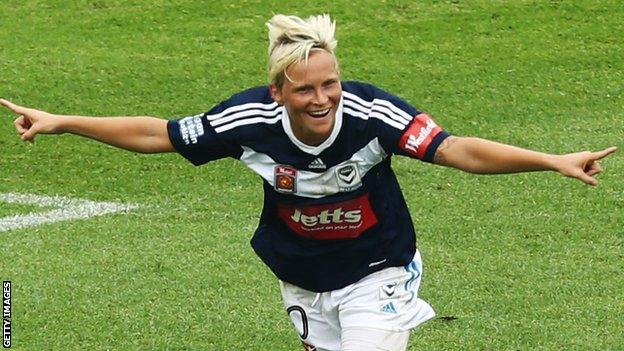 In her latest column for BBC Wales Sport, Wales Women's captain Jess Fishlock welcomes the appointment of Jayne Ludlow as national team manager; says she is enjoying her loan spell at Champions League side Frankfurt, if not the weather and reflects on where the team are since their 1-0 loss to Ukraine which put them out of 2015 Women's World Cup finals contention.
Jayne Ludlow is someone we will all want to work very hard for and play for and that alone will help us as a national side
Jayne's appointment is a smart one and when she starts her role she will be able to put together what Jarmo Matikainen did during his four years in charge.
Having worked under Jarmo, she will know the kind of traits he instilled in us and will be able to add a little something to our game that we've lacked.
She will be able to bring something that you can't study - it's just ingrained in you.
What she achieved with Arsenal was unbelievable and what she for Wales was second-to-none.
Jayne Ludlow facts
Born on 7 January 1979 in Llwynypia, Rhondda.
Won nine Premier League titles, six FA Women's Cup & Uefa Cup in 2007 with Arsenal.
Also played for Barry Town Ladies, Millwall Lionesses and Southampton Saints.
Made her Wales debut in 1996 & scored 19 goals in 61 appearances before retiring from international football in 2012.
Remains director of women's football & first-team manager at Reading until her contract expires at the end of November 2014.
When I was growing up she was the only female footballer who anyone knew anything about in Wales.
She had so much passion for wanting Wales to succeed and wanting Wales to get better.
You need someone who is willing to speak out to get things for the group and that's what Jayne did when she was a player.
She would sacrifice herself for the good of the team and in that way we're very similar, so it will be fun to work under her.
I know there were a lot of applicants - very good applicants - that went for the job and that's a testament to Jarmo's work.
What Jarmo did for us over the last four years was unbelievable. He will always been known as the person that changed everything.
It really was a massive disappointment to lose to Ukraine. I think we did everything right, we played well and pretty much controlled the game but it was just a lapse that cost us so dearly, as it did in the England game too.
We had some chances we didn't put away. We have to learn to get that right and to not make things like that cost us.
But it doesn't make the campaign any less credible - we were so close to being in the play-offs.
We're in a position now where people want to work with us because they can see that we can qualify.
Jayne's always been a winner and I don't think for a second she would have taken this job if she didn't think we could qualify.
In the Champions League it was good to see my former team Bristol Academy advance to the last 16 along with Frankfurt.
My Welsh team-mates Natasha Harding, Angharad James, Loren Dykes and Sophia Ingle are at Bristol and I wish them all the success.
Playing in the Champions League doesn't just help them develop as players but also helps the national side too.
There are no easy games any more in the Champions League and that shows you the growth of women's football.
We have a cup game at the weekend and then the Champions League the following weekend, and Torres will be a tough game.
We have games coming in thick and fast but are in a good place right now and doing well and we just hope we can continue that.
The only downside, having spent the last off season in Australia with Melbourne Victory, is that I'm really not used to the colder weather.
What I miss about Australia is my tan and the sun and it was so much easier to get up in the morning when you are going to train in 30 degrees.
Jess Fishlock was talking to BBC Wales Sport's Aled Williams