Rangers developments are 'an affront to the senses'

By Tom English
BBC Scotland
Last updated on .From the section Football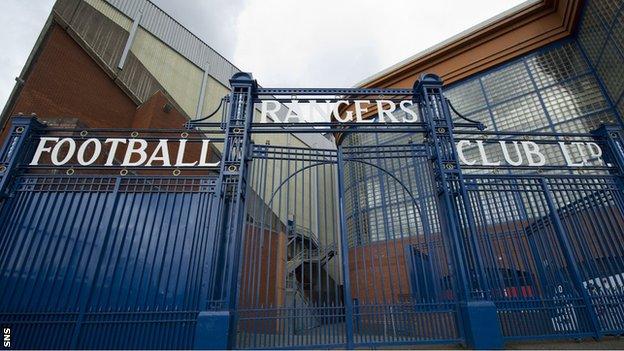 If you sought to catalogue all the risible claims by all the chairmen, chief executives, financial advisors, commercial directors and sundry other hangers-on in this unending black comedy at Ibrox then you'd require a ledger as thick as War and Peace to write it all down.
We've had enough war and not enough peace. We've had false prophets on a grand scale, some of them hailed as heroes among the support before being denounced as crooks.
We've had the surreal sight of Dave King being acclaimed by a section of the Rangers fans as the saviour despite his epic conviction in a South African tax court and the now famous laceration of his character - "a glib and shameless liar" - by a respected judge in his adopted land.
To call it a farce wouldn't be right. It's an affront to the senses. When Sandy Easdale, chairman of the football board, bore down on Ibrox on Monday morning, he was greeted by a group of journalists seeking answers to the latest eruptions in a deeply dysfunctional club.
Easdale was asked about Mike Ashley's ever-tightening grip on affairs and his response was just another addition to the volume of noise we've heard from those in power at Ibrox for close to three years.
Tom English
"When the finance medics fetch up, they are only ever carrying sticking plasters rather than the full surgical apparatus that is required to put this club on a healthy footing."
From David Murray's 'I was duped' declaration to Craig Whyte's uber-whopper about having the club's best interests at heart to Charles Green's claptrap about 'Rangersitis' (and many, many more other barking statements besides), Easdale's assertion about Ashley's motivation has its place in the pantheon of pap.
Easdale said that Ashley "wants to help the club" as if the businessman were some kind of angelic figure sent from footballing heaven for the benefit of the Bears. Ashley's modus operandi has always been about the betterment of Sports Direct. He's never made a secret of it and there's nothing wrong with it.
His ambition lies in the advancement of Sports Direct; Newcastle United - and now Rangers - are mere vehicles in that pursuit. And he's masterful at it. He is a brilliant strategic thinker with, as he has said himself, "balls of steel". He gets involved in distressed businesses, cuts costs and makes them profitable, all in the glory of Sports Direct.
Sports Direct is the beginning, the end and the in-between of his aspiration. There might well be some beneficial offshoot for Rangers, but for Easdale to trumpet Ashley's involvement as a desire to give the beleaguered club a dig-out, and nothing more, was laughable in its simplicity.
There was a time when some Rangers people - and, yes, some journalists - might have bought that line, but surely the era of gullibility has passed for most.
Instead of attempting to portray Ashley as the great redeemer, Easdale would have been better off admitting to his own shortcomings, and the shortcomings of all the other executives at Rangers. An admission that they have taken a shambles and turned it into something even worse would have been a start.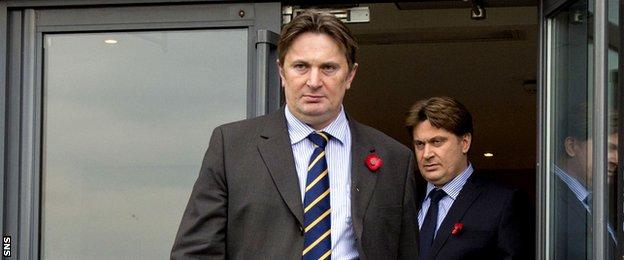 Rangers might dispute that they were ever 48 hours from administration - that BBC story didn't fall out of a tree - but they were in a parlous state, of that there is no question. Emergency funding has become a familiar phrase at Ibrox. The numbers 999 might as well be placed alongside 1872 in the club's literature.
The trouble is that when the finance medics fetch up, they are only ever carrying sticking plasters rather than the full surgical apparatus that is required to put this club on a healthy footing.
The Easdales - Sandy and James - have overseen Rangers' plight of late. Sandy has, in the recent past, flagged up the gravity of the situation at the club without, it seems, accepting that the deterioration has had anything to do with him, his brother or their cohorts.
When he spoke on Monday, a simple "sorry" would have been appropriate. Few in the Rangers support would have expected it - and even fewer would have accepted it - but they would have deserved it.
In that, they are hardly alone, of course. So much damage done and yet nobody explains and nobody says sorry. People have been flitting in and out of this horror show and they've all managed to make it worse, not better.
Ashley has played this majestically. He has fed off the desperation of an administration at war with itself at Ibrox and has the place surrounded now.
It's been said that he fought a power battle with King. To call it a battle would be overstating it in a pretty major way. King had friends in the media. Ashley had friends in the boardroom and in the City of London; shares and influence. King took such a painfully long time to make his move that, when he did, the club was already locked down by Ashley.
If it was ever a battle, the minute King's head appeared from the trenches, Ashley directed his bazooka and took him out. End of battle.
What Rangers need more than anything is not more empty words or a transfer "war chest" - God help us - to stop Celtic's march. They need stability and cold fiscal reality.
Nobody knows what Ashley's intentions are right now, but his past record would suggest that home truths about the way they are doing business will soon wing their way to Ibrox. And not before time.
The Scottish Football Association is writing to Ashley to determine the extent of his influence and to establish whether he is in contravention of an agreement struck with Stewart Regan, the SFA's chief executive.
The SFA is, to an extent, whistling in the wind. If Rangers as a club go to Hampden and say that the agreement is no longer in their best interests and that the best way to progress is with the billionaire Ashley as a major shareholder then will the SFA deny them?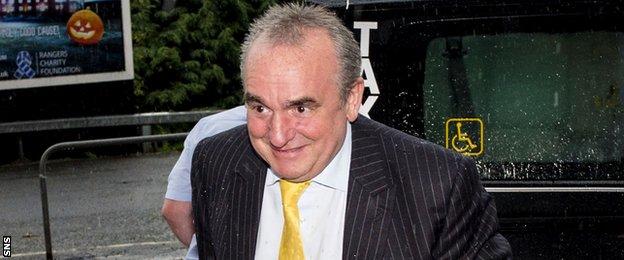 It remains an if. Nobody knows how involved Ashley intends to get in the day-to-day running of Rangers. But there's a feeling that if he ever wants to challenge the SFA on the agreement then he will win. He doesn't often lose.
Ashley is such an obsessively private person that everybody's guessing at what he will do next. And that's the way he likes it.
The appointment of Derek Llambias, his friend and his former managing director at Newcastle United, as a consultant is another brick in the wall he has built around the club's powerbase. And he's done it all, relative to his wealth, for the price of a cup of tea.
In his turbulent years at Newcastle, Llambias was routinely described in the local press as "forceful", "unvarnished", "spiteful" and "contradictory", a man who was a ferocious negotiator and who introduced a philosophy that brought security to a club that was previously a basket case.
Llambias was the man who got £35m from Liverpool for Andy Carroll. In football parlance, whatever else he is, he's no mug. No doubt, Sandy Easdale would tell you that Llambias is another man who just wants to help Rangers, a la Ashley. He should save the "goodness of their heart" stuff for the tourists.
The realists know that Sports Direct will be the ultimate winner in the Ashley age at Ibrox. That's not to say that Rangers won't benefit also. Until we know what exactly he's got planned then it's hard to make that call.
If there is one certainty, it is this - Rangers are at his mercy now.