County FA official banned for 'kitchen' insult to female referee

By Richard Conway
BBC Radio 5 live sports news correspondent
Last updated on .From the section Football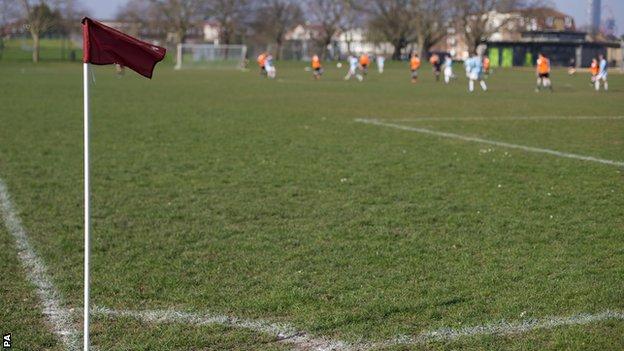 A county FA official has been suspended for four months after telling a female referee "a woman's place is in the kitchen and not on a football field".
Northumberland County FA vice president John Cummings made the comments to referee development officer Lucy May at a referee workshop event in March.
May, 24, asked Cummings about the possibility of officiating in the North East Sunday League.
Cummings told her she "wouldn't be able to handle it".
He added: "It's nothing against you personally but all the time I'm alive, a woman will never referee in my league."
An independent FA regulatory commission, led by solicitor and former Blackburn Rovers player Stuart Ripley, concluded Cummings was guilty of a breach of FA rules relating to "abusive and/or insulting language", aggravated because of a specific reference to gender.
As well as the ban and a £250 fine, Cummings must attend an education programme before he returns to his position.
Northumberland FA's equality policy
The Northumberland FA, in all its activities, will not discriminate, nor treat anyone less favourably, on grounds of gender, sexual orientation, marital status, race, nationality, ethnic origin, religion or belief, ability or disability. The Northumberland FA will ensure that it treats people fairly and with respect and will provide access and opportunities for all members of the community to take part in, and enjoy, its activities.
Cummings may yet appeal over the decision and BBC Sport understands he believes he should receive a more lenient sanction, just as the chairman of the FA's referees committee, David Elleray, did this summer.
Elleray avoided punishment after he told Robert McCarthy, a black non-league referee coaching manager, that he "looked rather tanned" and asked him "have you been down a coal mine?"
McCarthy did not make a complaint and Elleray subsequently issued an unreserved apology.
The FA, after conducting an inquiry, decided Elleray had breached the FA Council code of conduct, reminded him of his responsibilities and ordered him to attend an equality and diversity training course - an outcome Lord Ouseley, the chairman of the football equality organisation Kick It Out, called "unacceptable" and a "slap on the wrist".
Cummings, who initially denied a conversation with May had ever taken place, told FA investigators: "It's a standing joke with me. I mean, a woman's place is in the home and everything so what difference does it make saying it in front of all her colleagues? She should obviously realise it's a joke."
The FA panel decided, on the balance of probabilities, that Cummings had made the comments to May and that they were not "in jest".
In a statement issued to the BBC, Northumberland FA's chief executive officer Clive Oliver said: "All participants in sport have the right of appeal and whilst this window is still open we cannot comment on individual cases however I and Northumberland FA fully support anti-discrimination in all forms which has no place in sport. Football is an inclusive environment open to all."