Rangers: Why are the Ibrox club in such trouble?
Last updated on .From the section Football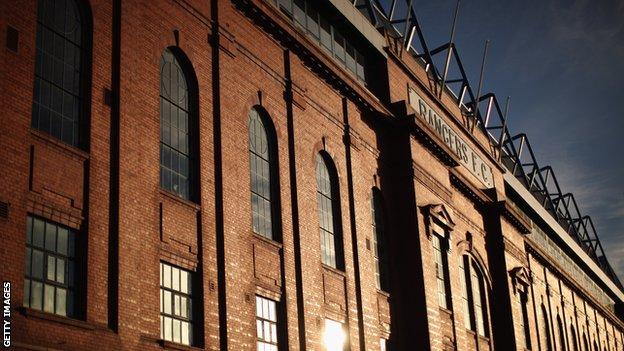 They attract crowds in excess of 30,000, while their status as a Scottish Championship club should, in theory, restrict their overheads.
The club kept control of its finances only thanks to a £2m loan from Newcastle owner Mike Ashley, who has a 8.29% shareholding in the Glasgow giants.
It is an arrangement that keeps the club on the rails, but what the future holds is still unclear.
BBC Sport Scotland's Chris McLaughlin explains why Ashley's loan was necessary and what it may mean for Rangers.
They get big crowds for the Championship, so why are Rangers in so much financial trouble?
Rangers' fragmented ownership structure means there is no one particular person or company in control of the club.
The Glasgow giants are effectively run by various groups of City investment firms who own small chunks of the club.
That has led to power struggles and bitter boardroom battles since the dark days of administration and liquidation in 2012.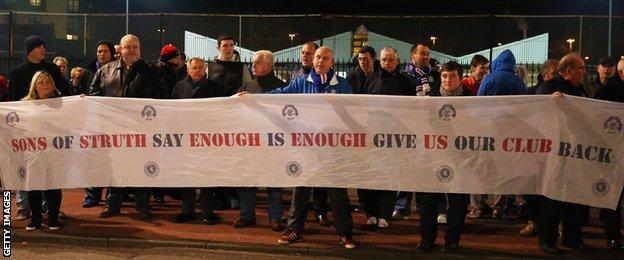 Since then, cash has been raised through various share issues but fans have accused the board of squandering money and not investing wisely. Costs are being cut but, despite being in Scottish football's second tier, Rangers still have the second largest wage bill in Scotland - only champions Celtic pay players more.
The infighting has also led to a serious disconnect with the fans and season-ticket sales are down considerably on last year. Some fans groups have even talked about boycotting matches.
All of the uncertainty has led to various cash-flow problems and the need for loans from wealthy shareholders.
What has Mike Ashley got to do with it?
The Newcastle owner first invested in Rangers following their financial troubles in 2012. As part of his deal, he secured a lucrative retail contract, which means his Sports Direct company gets almost 50% of the revenue from Rangers shirt sales.
He also secured the naming rights to Ibrox Stadium for just £1 as part of the overall contract. He recently doubled his shareholding in the club to almost 9% and called for the removal of two directors - Graham Wallace and Philip Nash - both of whom have subsequently gone.
Their resignations followed the board's decision to accept Ashley's offer of £2m to fund another cash shortfall. As part of that deal, he also demanded that two of his representatives were allowed to sit on the Ibrox board - effectively giving him control of the club.
How can he have so much influence with less than a 10% share?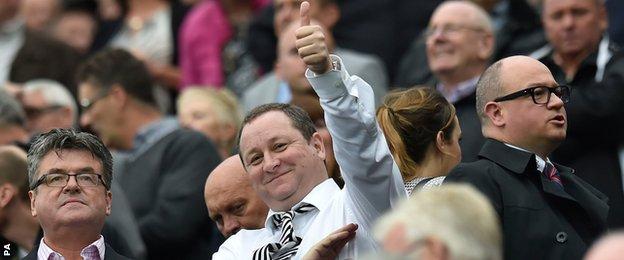 This all comes back to the fragmented ownership structure.
Another investor, Sandy Easdale, who controls voting rights totalling around 26% of the club, has aligned himself with Ashley.
Easdale has the shareholding vote, while Ashley now has the boardroom votes and cash to fund the club until it gets back on its feet financially. Cash is king at Rangers because it has been in such short supply recently.
Can Ashley own Newcastle and have such influence over Rangers?
There are no written rules in place in either Scotland or England to prevent it at the moment, but he did enter into a written agreement with the Scottish Football Association when he first invested. That could make things tricky for him.
The deal was that he would not own any more than 10% of Rangers or have boardroom influence whilst also being the majority shareholder of Newcastle. Clearly the second part of that deal will be tested in the next few weeks and the SFA have written to both Ashley and Rangers for clarification.
If Rangers make a valid case for his boardroom influence though, there is a feeling that the SFA may be helpless to stand in his way.
So is it all about making money from Rangers?
It's unclear just exactly what Ashley's intentions are with Rangers. He doesn't speak to the media very often, so we can only speculate about what he wants from the club.
Some believe he is simply exercising influence in a bid to protect his commercial deals. One person close to the man has told me that he would like to own Rangers if and when he sells Newcastle, but Ashley has never confirmed this.
Many believe he wants to use the club as a vehicle to showcase his Sports Direct business on the European stage. Rangers may be some time away from competing in Europe, but few would argue against them having Champions League potential in the next five years if they can sort out their off-field problems.