Scotland must be aggressive against the Netherlands

By Tom English
BBC Scotland
Last updated on .From the section Football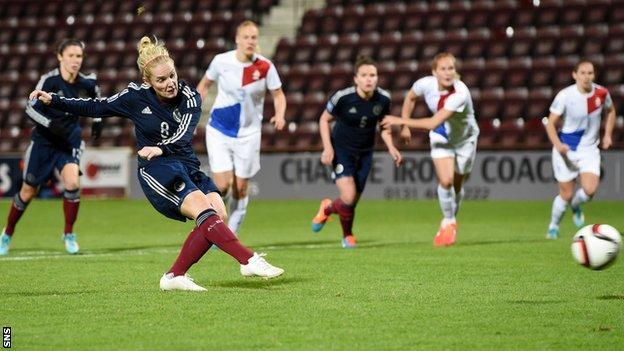 When Ukrainian referee Kateryna Monzul blew the final whistle in the Women's World Cup play-off between Scotland and the Netherlands at Tynecastle on Saturday evening, Kim Little didn't hang about for the pleasantries.
While her team-mates shook hands with their Dutch rivals, Little walked off the pitch.
Maybe she did her diplomatic duty in the privacy of the dressing room area, but there was no mistaking her initial reaction at the end of the game. She was disappointed and she wanted out of there.
It was an understandable response to a damaging night.
In that one moment, Little displayed a quality that was absent for too long against the Dutch, a quality that will need to be there in abundance if the Scots are to turn around a 2-1 deficit in the second leg in Rotterdam on Thursday.
A bit of controlled anger wouldn't go amiss. A bit of aggression. When the Netherlands established a 2-0 advantage in the opening half at Tynecastle, they did so not only because of their superior technique but also because of Scotland's lack of belligerence.

They were up against opponents who were bigger, more athletic and quite simply better. That said, the Dutch were allowed to revel in their dominance by Scotland's lack of bite.
This didn't begin and end with the action on the pitch. Scotland weren't particularly sharp off it either.
When Rachel Corsie came to the touchline with a minor blood injury it took a veritable age to get her patched up and back out there, by which time the Dutch had scored their opening goal, courtesy of one of many Scottish defensive calamities in that opening half.
The second spell brought a change in the dynamic with the home side proving more combative.
A second-half penalty from Little gives them an outside chance in Rotterdam, but only if they abandon the niceties and the standoffishness of Saturday's opening period. A repeat and they will be beaten out the gate.
The Dutch are a talented lot. Physically, they are like different specimens when standing alongside their diminutive Scottish counterparts. Anouk Dekker, the central midfielder from FC Twente, is like a colossus. Manon Melis, Lieke Martens and Anna Miedema are natural footballers; tall, graceful and skilful. A delight to watch.
Miedema is just 18 years old and the Bayern Munich striker already has a goalscoring record that suggests she's a world star in the making.
She's a lovely amalgam of touch and vision. She rarely gives the ball away. At times she's two steps ahead of everybody else on the pitch in her ability to find space.
There are many challenges facing Scotland goalkeeper and captain Gemma Fay's team on Thursday and denying Miedema and her creative outriders, Melis and Martens, is top of the list.
It's hard to see how they can shut down these attackers, but they must. Otherwise, their prospects of making the play-off final - against Italy or Ukraine - for the last available spot at the 2015 World Cup in Canada will be gone.
Tynecastle was a disappointment in more ways than one. The game was moved there, from Fir Park, in the hope that the capital would support the women's team in bigger numbers. It didn't really happen.
The official attendance was 2,098. They got more at Fir Park when Sweden played there. In terms of growing their supporter base, the women's team is running to stand still.

Not that it's unusual. Of the nations in the European qualifiers for Canada only five are pulling biggish numbers.
France are out on their own. They drew more than 13,000 for their pool game with Bulgaria. Between 8,000 and 9,000 is their norm. Germany's numbers are strong. England's numbers are reasonably healthy. So, too, Sweden and, to a lesser extent, the Netherlands.
How the Scots must wish for the kind of support the Swedes had when they met in their group game - more than 9,000 in Gothenburg.
All that Anna Signeul's side can do for now, of course, is try to rattle the Dutch. If the women's game is to attract bigger numbers then it's only going to be done in baby steps.
Scotland played some fine football on their way to these play-offs but battering the Bosnians or the Faroes is a different world to the one they inhabited on Saturday and will return to on Thursday.
The tie is not settled, but it wouldn't be a stretch to say that it will take the game of their lives - confrontational and clinical - to turn it around and keep the World Cup dream alive.