2015 Nations Cup: Malawi may withdraw from qualifying
Last updated on .From the section Football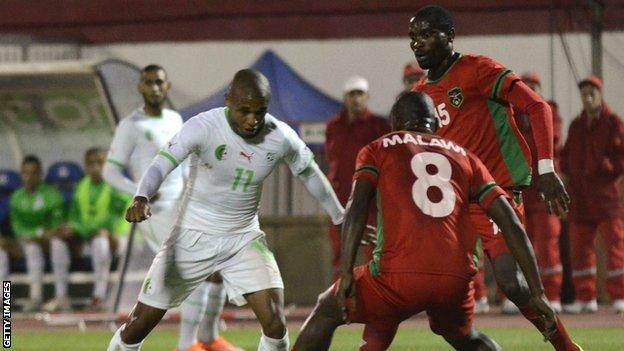 Malawi may be forced to pull out of qualifying for next year's Africa Cup of Nations because they do not have the money to play their final two games.
They sit in third place in Group B, with matches against second-placed Mali and bottom side Ethiopia to come.
Malawi Football Association general secretary Suzgyo Nyirenda told BBC Sport they are trying to secure sponsorship to fulfil their fixtures.
Nyirena said: "The cut-off point for a decision will be 4th/5th November."
Malawi are scheduled to host Mali on 15 November and travel to Ethiopia for their final match four days later.
Should they fail to raise the money required to play those games, they will be disqualified and their results removed from the table - which will significantly alter the standings.
Malawi have recorded a win over Ethiopia but lost to Mali. Should these results be declared void, it would mean Ethiopia and Mali would be level on points and fighting for the second automatic qualification spot behind Algeria, who are already through and would be declared group winners.
Malawi Football Association general secretary Suzgyo Nyirenda told BBC Sport: "The government has already told us they would not be able to fund the team for the remaining games.
"We cannot go into camp without the funds so we are contemplating pulling out of the competition. It would be the last resort. We are trying to engage a number of organisations to give us US$155,000 to complete the assignment.
"If we cannot raise the money we will be fined and banned (by the Confederation of African Football) and even our youth teams will be affected.
"We thought Malawi was progressing well, in terms of performances and rankings, but funding has always been a problem and this shows the situation in the country.
"It is pathetic we have reached this position. We are hopeful something will happen, but if the situation remains the same we will definitely have to pull out."