Gareth Bale or Aaron Ramsey can break my Wales record - Ian Rush
Last updated on .From the section Football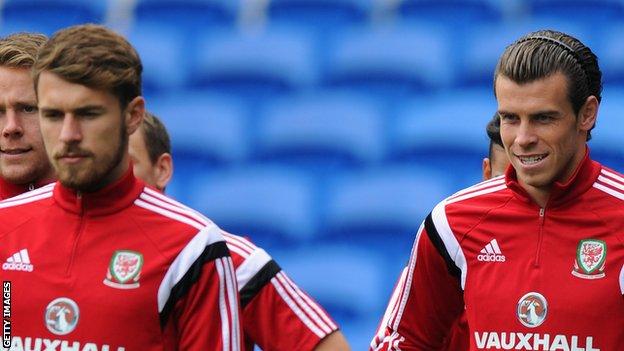 Ian Rush has backed Gareth Bale or Aaron Ramsey to overtake his all-time Wales goalscoring record.
Former Liverpool striker Ian Rush scored 28 goals in 73 internationals, while Real Madrid winger Bale has netted 14 times for his country.
Rush also thinks Arsenal midfielder Aaron Ramsey, who has eight international goals, can overtake him.
"There's no reason why Bale can't, but I think Aaron Ramsey is in that category as well," said Rush.
"It's nice having a record but if someone like Gareth Bale or Aaron Ramsey broke it I'll be happy because it means Wales are doing well."
Wales' all-time top scorers
1. Ian Rush (73 caps, 28 goals)2. Trevor Ford (38 caps, 23 goals)3. Ivor Allchurch (68 caps, 23 goals)4. Dean Saunders (75 caps, 22 goals)5. Craig Bellamy (78 caps, 19 goals)
Bale became the world's most expensive signing when he joined Real Madrid from Tottenham for £85m in September 2013.
The 25-year-old has scored 11 goals in his last 18 matches for Wales, while his overall record stands at 14 goals from 47 caps.
Two of those came in a match-winning display in Wales' opening Euro 2015 qualifier, a 2-1 victory in Andorra.
Ramsey, who missed Wales' last two qualifiers against Bosnia-Hercegovina and Cyprus through injury, has scored eight goals in 31 appearances for his country.
"They are playing more games now and they are young," said Rush, who played for Wales between 1980 and 1996, "so I'm sure one of them will break it one day."
Wales currently top their qualifying group and face favourites Belgium away in their next match on Sunday, 16 November in Brussels.
Rush thinks it is "vital" that both Bale and Ramsey are fit for the match against the third-placed Belgians.
"That's the two players that are going to win the games, who will score you the goals," said Rush.
"There's no reason why we can't get something out of the game.
"It's a big game for us but it's a big game for Belgium as well."
Wales have not qualified for the finals of a major tournament since the 1958 World Cup and Rush hopes to see his record broken at the Euro 2016 finals in France.
"I didn't get to play in a major tournament for Wales," said Rush, "but my ambition is, while I'm still alive to see Wales hopefully in a major competition.
"If they [Bale or Ramsey] break my record doing that then it would be the icing on the cake."