Women's World Cup 2015: Fifa defends use of synthetic pitches
Last updated on .From the section Football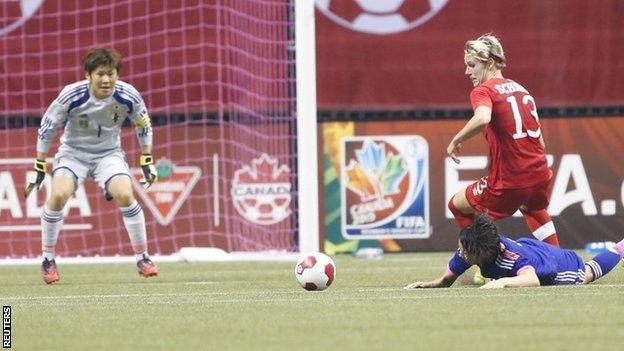 Fifa secretary-general Jerome Valcke has defended using artificial pitches for the 2015 Women's World Cup - suggesting they could be used for men.
"It would be very difficult to ensure grass pitches at all venues," he said.
"It could well be that sooner rather than later the men's World Cup will also be played on artificial pitches."
The Frenchman added: "The Canadian Soccer Association (CSA) proposed for the tournament to be played on artificial turf based on the fact that most sporting infrastructure in Canada is on artificial turf, primarily due to the extreme climate in the host country.
"As has already been explained, this is not a question of money, or of differences between men's and women's events, but it is a matter of the natural conditions in Canada."
Artificial pitches: Pros & cons
Pros:
Cost-effective. Artificial pitches keep in condition longer, and can be used for training and matches
Cons:
Fears over increased injuries and contrast in playing surfaces. For the World Cup, women believe they are being treated differently to men
World Cup venues:
Vancouver, Edmonton, Winnipeg, Ottawa, Moncton, Montreal
Fifa Women's Player of the Year winners Nadine Angerer of Germany and Abby Wambach of the USA are two of the players represented by lawyer Hampton Dellinger, who has begun legal proceedings against the CSA and football's world governing body at the Ontario Human Rights Tribunal.
Players from Australia, Brazil, Colombia, Costa Rica, France, Japan, Mexico, New Zealand, South Korea and Spain are also involved in the action.
England have qualified for the tournament, but no English player has signed the petition.
England manager Mark Sampson has indicated the pitches could suit his side as several members of his squad are used to playing on synthetic turf.
The World Cups for men and women, contested every four years, have always been played on natural grass.