Swansea City: American John Moores 'in investment talks'
Last updated on .From the section Swansea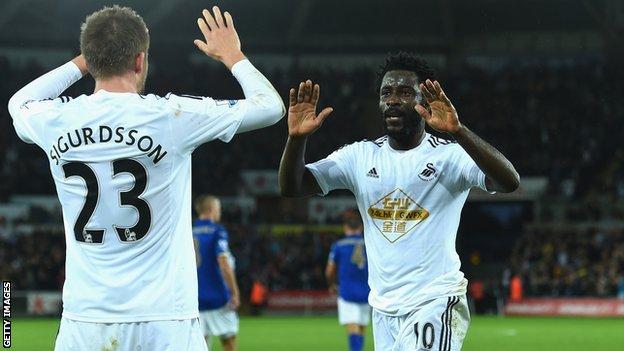 Swansea are understood to be talking to American millionaire John Moores over potential investment in the club.
Chairman Huw Jenkins has said the club has opened discussions with parties over potential investment into the Premier League club.
Jenkins would neither confirm nor deny the link with Moores.
The Swans chairman said: "Until there is actually a bit more detail and more definite information to give, this is pure speculation."
He added: ''There is a level of confidentiality that has to remain until there is a bit more to give.''
Moores is an entrepreneur and previously owned the San Diego Padres Major League Baseball franchise.
The club, who are in their fourth Premier League season, survive mainly on television money and transfers.
Jenkins said in September that Swansea were "miles behind" most of their rivals in terms of commercial income.
Swansea City are sixth in the Premier League table, nine points behind leaders Chelsea after beating Leicester 2-0 last Saturday.
Swans manager Garry Monk on investment talks:
"It's important to the club we look to push forward. [A] way about that is maybe to attract other interest and other investment to areas of the club that need to be strengthened. We need to be proactive and make sure we can try and attract investment. Over the last 10 or 11 years, everyone that has been involved at this club, Huw [Jenkins] and the board, have always [made] decisions which are in the best interests of the club. Whatever happens in the future, as long as those guys are here they will do exactly the same."
There has been no overseas investment in Swansea since the club was bought from Australian Tony Petty in 2002 when the Swans were struggling near the bottom of the Football League.
The supporters' trust owns a 20% stake in the Premier League side, and a spokesman said the club should be cautious about changing its financial regime.
"We're not convinced that this is the time to change that set up and bring in some foreign ownership," trust chairman Phil Stumbler told BBC Radio Wales.
"We need to make sure as an organisation - with the number of members we represent - that any form of people looking to take forward investment or potentially take equity in the club are actually the right sort of people and continue with the ethos that we have had for so long."
It added: "The board of directors believes they have proved over the years that the decisions they make are in the club's and fans' best interests.
"This philosophy is a priority and any future investment will only be accepted if it is right for the club and fans.
"Swansea City Football Club is in the fortunate position that it does not need to be forced into making any decisions it believes are not right and could be detrimental to the club's current and future success."