Norwich City's Gary O'Neil fine with lack of games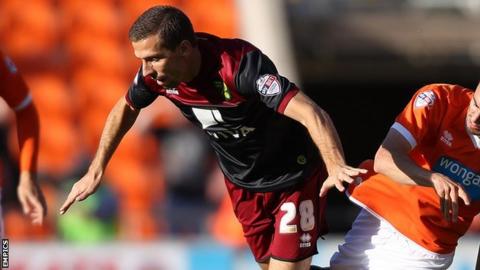 Norwich midfielder Gary O'Neil has said he is not concerned by a lack of first-team action since joining the club.
The 31-year-old is yet to make a Championship start after signing a two-year deal in August.
But he is likely to get his chance on Friday against Bolton, with Vadis Odjidja-Ofoe and Wes Hoolahan injured.
"I didn't think it would take this long to get a start. But I'm not worried or upset at how things have gone," he told BBC Radio Norfolk.
O'Neil's only start this term has come in the League Cup, but he came on to replace Odjidja-Ofoe in last week's 0-0 draw with Sheffield Wednesday.
O'Neil's former clubs
Portsmouth
Walsall (loan)
Cardiff (loan)
Middlesbrough
West Ham
QPR
Norwich
The goals have dried up for the Canaries, who have scored twice in a run of five games without win.
That followed a start to the season which saw City score 24 times in their first 11 matches.
"At the start of the season we were scoring goals freely," said O'Neil. "And you kind of get sucked into believing that it's easy to score goals.
"We've managed to comeback from going goals down and I'm sat there thinking 'you can't get away with this forever'.
"It's massively important that we star games better. If we can get the first goal it will make a big difference for us."