FA Cup: Meet the Warrington Town minnows hoping for upset
By David Mannix
Warrington Town captain
Last updated on .From the section FA Cup
Warrington Town v Exeter City - FA Cup first round
Venue:
Cantilever Park
Date:
Friday, 7 November
Kick-off:
19:55 GMT
Coverage:
Live on BBC Two from 19:30 GMT, HD, online, mobile; live commentary on BBC Radio 5 live sport extra, the BBC Sport app and live text commentary on the BBC Sport website.
It's the biggest game in Warrington Town's history, but who are the non-league players looking to deliver an FA Cup surprise against Exeter City in front of the live BBC cameras on Friday?
Here, captain David Mannix gives a player-by-player guide to the minnows from the eighth-tier Northern Premier League Division One North. The photograph below shows their squad numbers.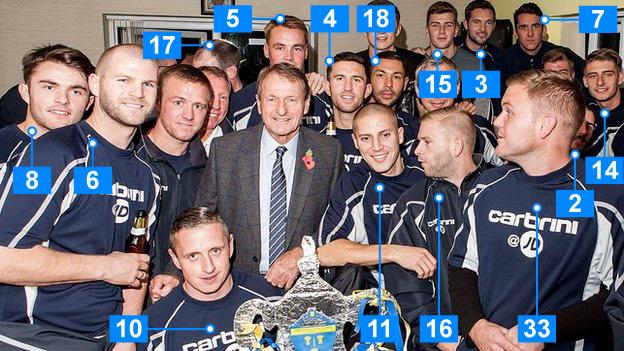 1 Karl Wills, goalkeeper
Age: 27
Occupation: Website designer
Captain says: "The first thing you notice when you meet Karl is his height. At 6ft 5in tall he is from the land of the giants! In our fourth qualifying round win, North Ferriby bombarded us with corners in the final 15 minutes. Fortunately, Karl was able to pluck them all out of the sky. He is in his second spell at Warrington having rejoined his hometown club from ninth-tier Runcorn Town last season. Karl's a solid and dependable member of the team. He started his career at Crewe Alexandra when Dean Ashton and Luke Varney were plying their trade there. As well as being one of the quietest members of the dressing room, Karl's definitely one of the most sensible."
2 Lewis Field, right-back
Age: 24
Occupation: Personal trainer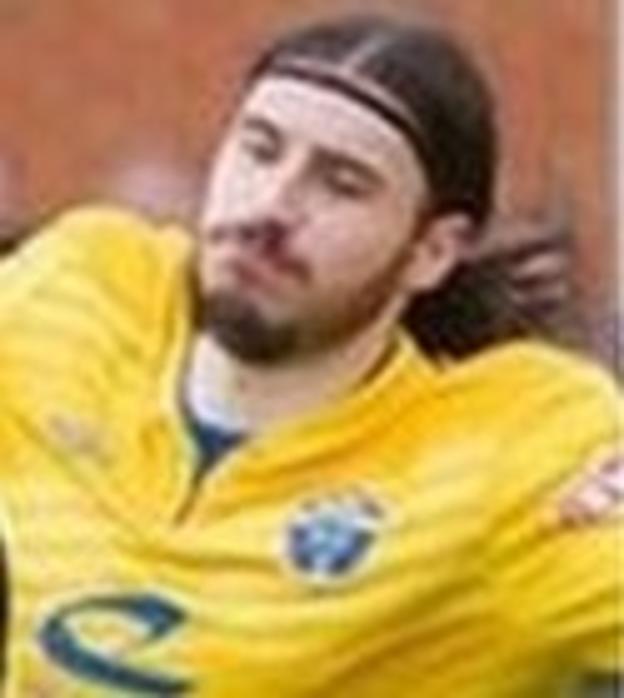 Captain says: "Nicknamed 'Jesus' and not just because he scored the winning goal in the last round that booked our place in the FA Cup first round for the first time. Lewis has the long hair to match his nickname and has to wear a girl's Alice band to keep it out of his eyes during matches. He is popular with the fans who love to sing 'Jesus is a Wire' - Wire being one of the club's nicknames. Lewis is strong and athletic and could teach one or two forwards a lesson in finishing after the winner he scored against North Ferriby. Having started his career at Wigan, he is well known on the local non-league scene after spells at Burscough and Skelmersdale."
33 Matt Doughty, left-back
Age: 32
Occupation: Administration worker at Warrington Hospital
Captain says: "Another Warrington-born player and a huge rugby league fan, but don't expect to see him cheering on Warrington Wolves, Matt's actually a massive St Helens supporter. On the pitch, he is one of the most experienced members of the squad having reached the FA Cup fifth round in 2002-03 with Rochdale. He started his career as an apprentice at Chester City and our manager, Shaun Reid, never grows tired of telling us how Matt used to clean his boots when the two of them were there. Matt loves boring everyone by telling them he was the first player to ever score at Oxford United's Kassam Stadium in 2001 when he played for Rochdale."
14 Louis Corrigan, defender
Age: 23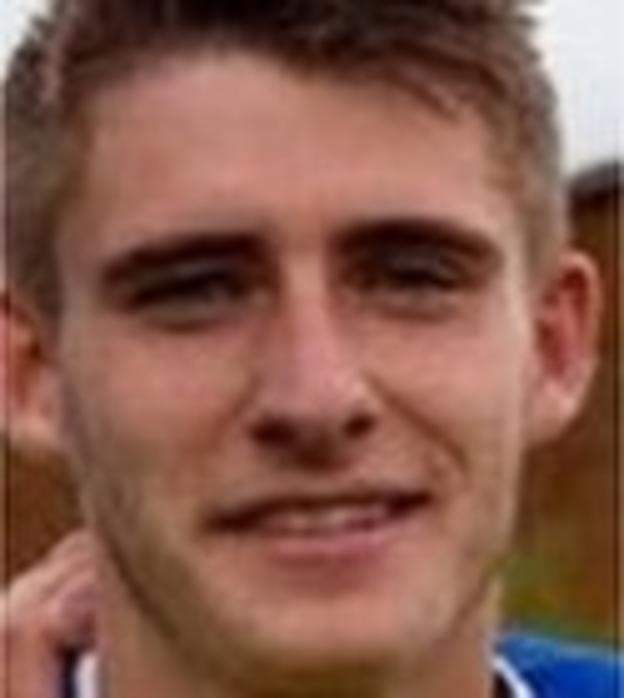 Occupation: Salesman
Captain says: "Another one who is in his second spell at Warrington, Louis is our dead-ball specialist. Born in Liverpool, he's a product of Tranmere Rovers youth system. Although he's only 23, Louis has had more clubs than Tiger Woods! Having had a spell in Australia at Shepparton United, he is one of the few in the team to have played abroad, but he's also trawled around the north west non-league scene at Marine, Colwyn Bay and Skelmersdale. He's versatile in that he can also operate in midfield. It's no surprise that Louis earns his money as a salesman, because he never shuts up. He is always up for a night out, a good character to have in the dressing room."
15 Phil Davies, right-back
Age: 22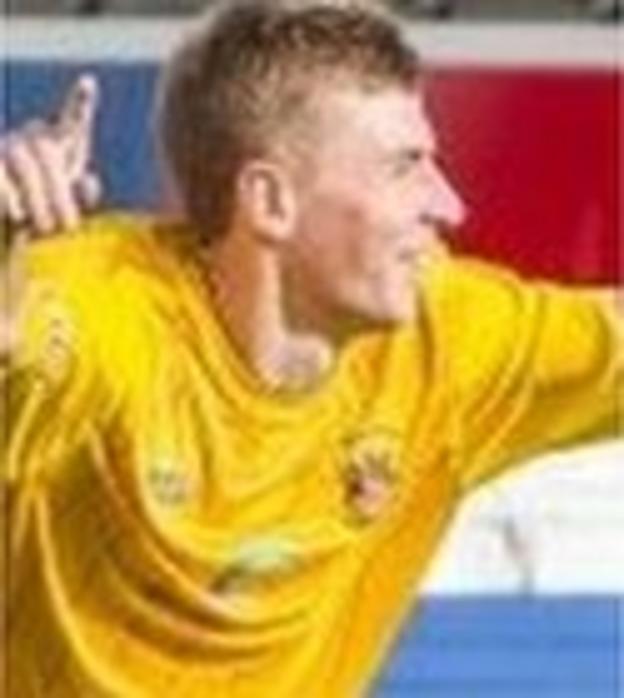 Occupation: Fencer
Captain says: "Hard-working, tough-tackling...and a snappy dresser. Phil is rarely seen without a blazer and an expensive pair of shoes - he could certainly give Robbie Savage some tips when it comes to fashion. Born in Liverpool, he started his career at Wrexham before joining Bootle. Phil was named player of the year in his first season at Warrington in 2012-13. Two years ago, he was part of a Knowsley team that won the Dallas Cup in Texas, a tournament to showcase young global talent."
6 Craig Robinson, defender
Age: 32
Occupation: Plasterer
Listen: Builder by Day, FA Cup Player by Night. World Service Sportshour follows Craig for a day in the build-up to the biggest game in the club's history.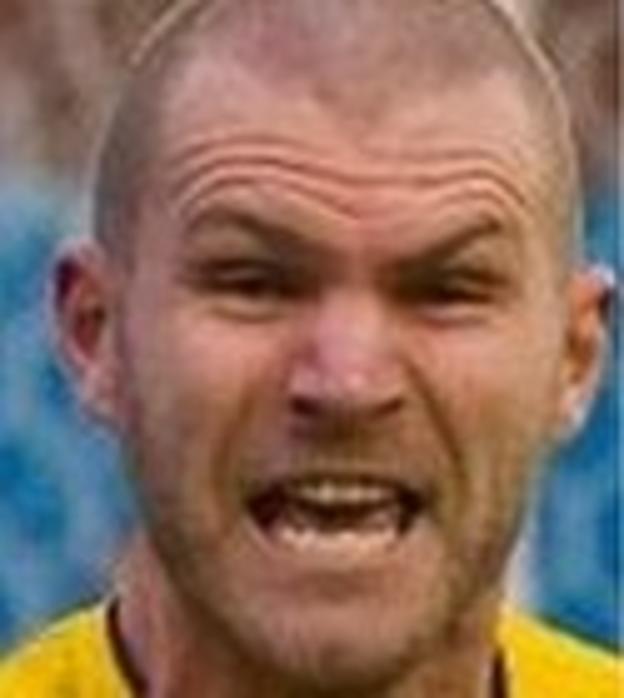 Captain says: "I might be captain, but Craig is a born leader on the field. The younger brother of MK Dons boss Karl, he joined Warrington from Northern Premier League Premier Division Ashton United, where he was player-manager. He's also played alongside the likes of Neil Mellor and Rickie Lambert at various levels and is an experienced and valuable member of the side. Craig, however, does have his annoying habits. He fancies himself as John Terry and has a tendency to suddenly start talking in a Cockney accent on the pitch, even though he's from Liverpool."
5 James McCarten, defender
Age: 23
Occupation: Window cleaner and catalogue model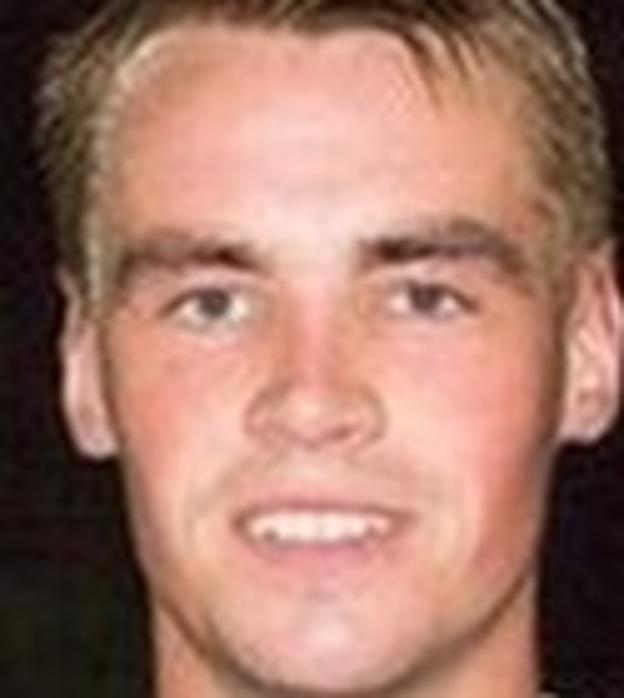 Captain says: "James likes to think of himself as the poster boy of the dressing room. A window cleaner by trade, he's also a part-time model for a sportswear catalogue. It must have gone straight to his head because he's a poser. We all think he must have one of those funny mirrors you get on holiday in Blackpool. As a defender, he is technically good, which is no surprise considering he was a regular member of Everton's reserve side. He was Everton's under-18 player of the year in 2008-09 and had a spell at Welsh Premier League side Aberystwyth Town before joining Warrington."
3 Tom Hardwick, defender
Age: 27
Occupation: Solicitor
Captain says: "Goodness knows how Tom qualified to be a solicitor. Let's just say he's not the brightest spark. On the pitch, he takes few prisoners and is a crucial member of the team. A left-footed central defender, he knows the club inside out and is in his second spell having left to join Skelmersdale, where he won promotion two seasons ago before rejoining us at the beginning of this campaign. A very lively character."
11 Scott Metcalfe, midfielder
Age: 26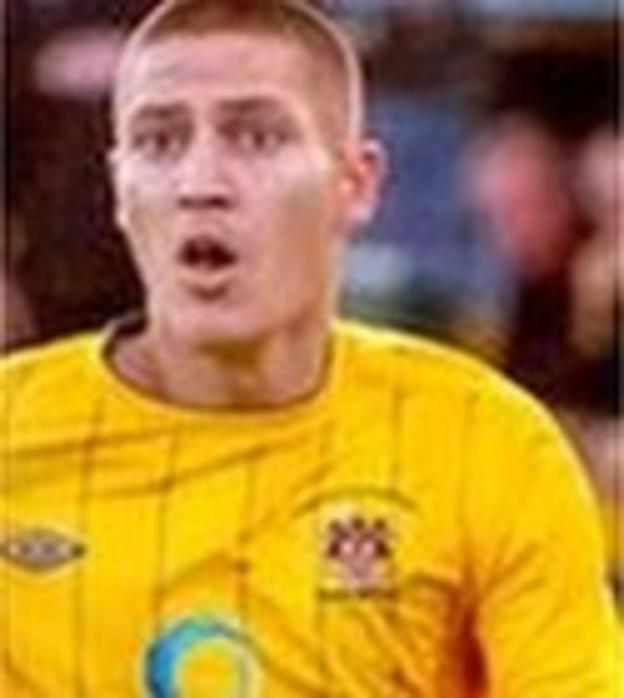 Occupation: Gardener
Captain says: "Scott is our leading goalscorer with 11 this season. He certainly does not lack confidence and is not afraid to shoot from anywhere - he's even been known to have a crack at goal from his own half. Scott possesses loads of energy and pace and is putting his experience from playing at a higher level with Altrincham to good use. Born in Manchester, he does, however, let himself down in the clothing department. On a recent team night out he came dressed in flares that had zips down both sides. Not only that, he was wearing crocodile shoes. A terrible dresser."
16 Chris Gaghan, midfielder
Age: 30
Occupation: Runs his own car valeting business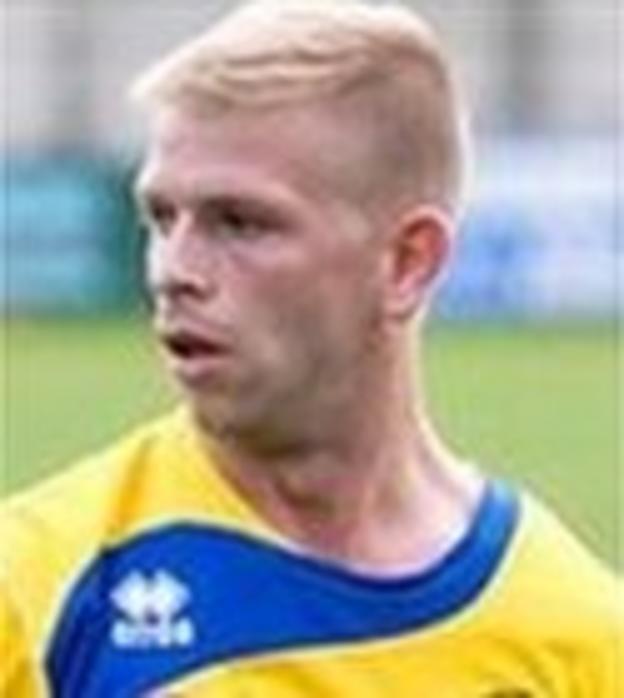 Captain says: "Chris likes to come across as a businessman and loves talking about his car valeting business. Actually, he owns a bucket and a sponge. He's certainly good at cleaning up on the pitch. Another local boy, he is one of the crowd favourites and his popularity increased further when he came off the subs bench in the FA Cup third qualifying round tie to equalise in the 95th minute against Colwyn Bay. His previous clubs include Northwich Victoria, who he helped win promotion from the Conference North. Chris has another promotion under his belt with Bradford Park Avenue."
17 Robbie Booth, midfielder
Age: 28
Occupation: Joiner
Captain says: "Another who has played in the Football League, having appeared for Chester in League Two in 2004-05 after being released by Everton. A decent signing for Warrington when he joined from AFC Telford in the summer after helping the Shropshire club win promotion to the Conference Premier. Liverpool-born Robbie played for Liverpool when he was at school before joining Everton. He hasn't got much hair left for a 28-year-old, but what Robbie does have plenty of is talent and brings energy to the team."
7 Conor Roberts, midfielder
Age: 22
Occupation: Fixes ceilings
Captain says: "Don't let Conor's slight build deceive you. He would run through brick walls if you asked him. Loves snapping at the heels of opposition players and his tigerish tackling has landed him in trouble time and again. Conor loves a yellow card and is already into double figures this season. In fact, he's rattled up enough fines with his bookings to keep the club going for years to come. He missed the fourth qualifying round win because he was suspended. But Conor, who was brought up in the Tranmere Rovers youth system, is definitely someone you want by your side when the going gets tough."
Warrington's big FA Cup night

Everton have allowed Warrington's players to train at their Finch Farm training base ahead of Friday's tie

Warrington are appearing in the FA Cup first round for the first time in the club's 65 year history
Home tickets for the tie sold out within two hours and 50 minutes of going on sale. Exeter have been allocated 375 tickets

The Yellows started this season's FA Cup campaign at the preliminary round stage on 30 August
8 Nathan Burke, midfielder
Age: 19
Occupation: Student
Captain says: "Nathan is my favourite team-mate because he does most of my running for me in the engine room. He's got bags of potential and is a tireless performer. Nathan spent nine years at Liverpool's academy, where he was captain at most junior levels. He joined Warrington Town this season from Marine and is getting better and better each game. Nathan became a fans' favourite after scoring the winning goal in the FA Cup third qualifying round replay win over Colwyn Bay."
22 Oscar Durnin, striker
Age: 19
Occupation: Stockroom operator
Captain says: "Oscar is the son of former Liverpool, Oxford and Portsmouth striker John Durnin. He started his career at Bolton's academy, before joining Rochdale and Tranmere. Oscar came to us from Welsh Premier League side Cefn Druids, where he scored eight goals."
9 Ben Wharton, striker
Age: 24
Occupation: Football coach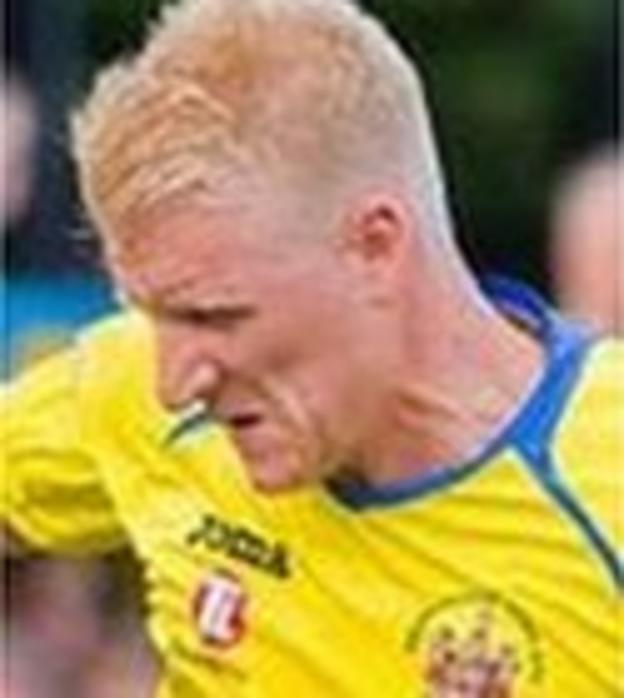 Captain says: "Ben is known to his team-mates as Ivan Drago after the Russian boxer from the Rocky IV movie because he has very similar hair. That's where the similarities end because he is nothing like Drago when it comes to his physical appearance. Ben started his career at his hometown club Stockport and has had spells at Rochdale, Northwich Victoria and Buxton. He was second leading goalscorer in the Northern Premier League Division One North last season - a tremendous achievement considering he spent part of the season nursing a broken arm."
18 Ashley Ruane, striker
Age: 29
Occupation: Shop assistant, pizza takeaway worker and sports centre receptionist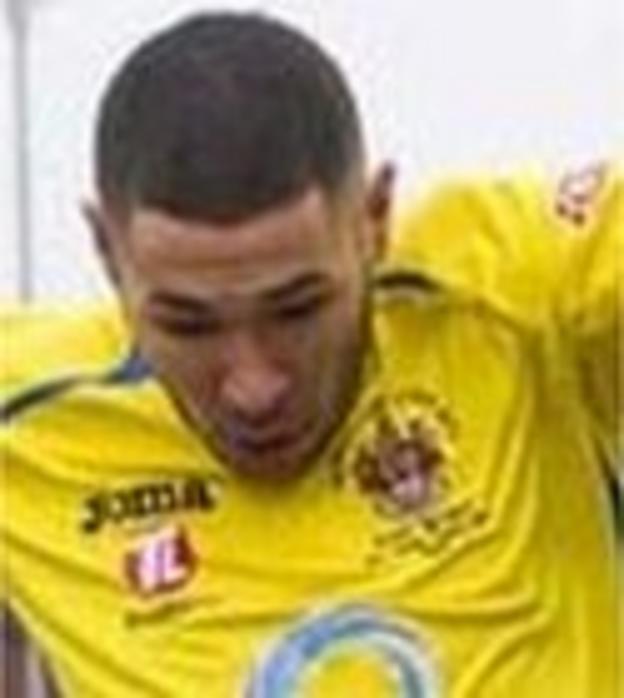 Captain says: "Ash is a Liverpool-born striker with an eye for goal. He's a huge character in the dressing room and a very confident lad. He thinks he's the fastest and the best looking when, actually, he's one of the worst dressed. What he has got is great pace and power. Having started his career at Chester, he joined Warrington from nearby Prescot Cables."
10 Steve Foster, striker
Age: 32
Occupation: Surveyor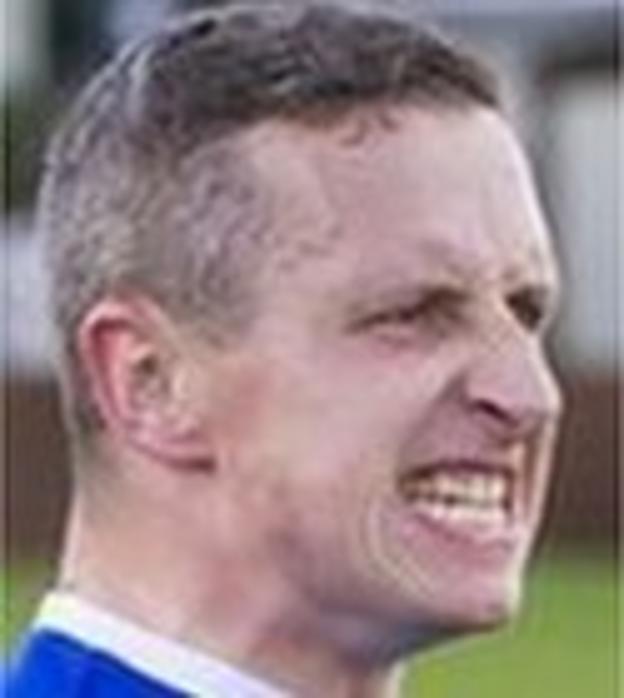 Captain says: "Fozzer is a real handful, unselfish and very experienced. Born in Manchester, he is much travelled in non-league circles and his previous clubs include Salford City, Chorley, Witton Albion and Mossley. Steve is one of Warrington's latest signings having joined the club in September."
19 Ben Collins, striker
Age: 17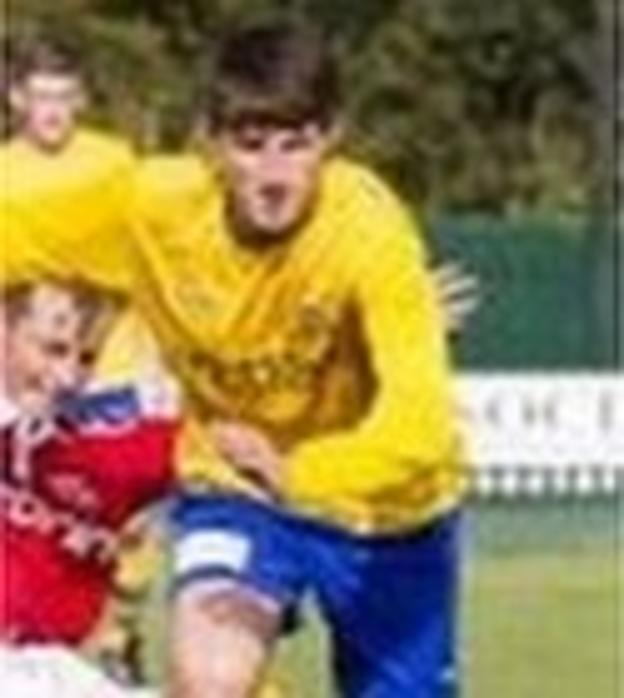 Occupation: Student
Captain says: "Despite his tender age, Ben has huge potential. The manager knows a good player when he sees one and he thinks Ben has the ability to play in the Football League. He has been fast-tracked from the club's youth team to the senior squad after representing England at youth level. Ben is definitely one to keep an eye on in the future."
Shaun Reid, manager
Age: 49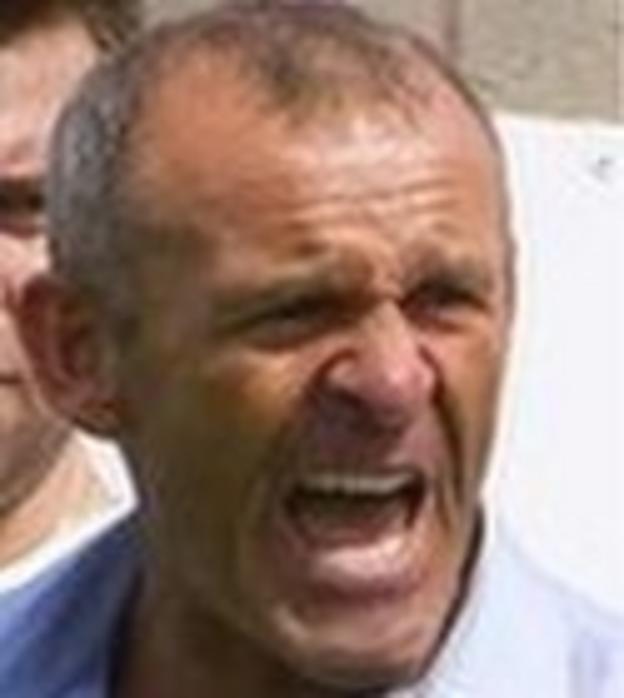 Occupation: Manager
Captain says: "Where do I start? It's been well documented that Shaun is the younger brother of Peter, who won the FA Cup with Everton in 1984. What isn't well known is that Shaun is a keep fit fanatic and the biggest show off at the club. He's always got his top off flexing his muscles. On a serious note, he's passionate and wants the best for the club, players and the fans. He's certainly not one to shy away from anything and says exactly what he thinks. Shaun is using all that Football League experience he gained playing for Rochdale, Preston, York, Bury and Chester, as well as the coaching spells he had at Swindon and Plymouth, to get the best out of us. He likes a laugh, but be warned, he doesn't suffer fools."
4 David Mannix, midfielder (by manager Shaun Reid)
Age: 29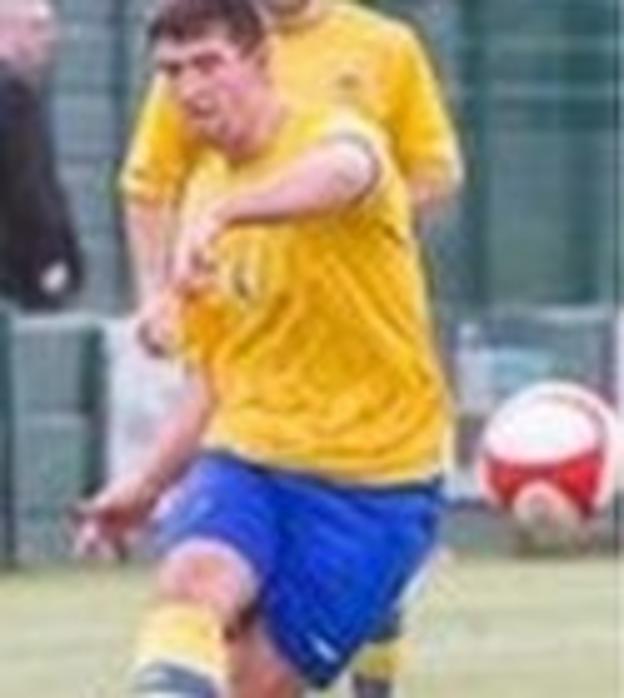 Occupation: Football coach
Manager says: "I picked David as captain for a reason - he's got great ability and he's talented. He has loads of experience from his time at Liverpool, where he spent several years as a professional and was part of Rafael Benitez's 2005 Champions League final winning squad. David was extremely unfortunate to have his Anfield career ended by a serious knee injury but he's enjoying the game again. He's certainly a character. He eats too much and I'm wasting far too much time on him devising new diet plans!"