WPL Match-fix threat 'significant', says Football Association of Wales
Last updated on .From the section Football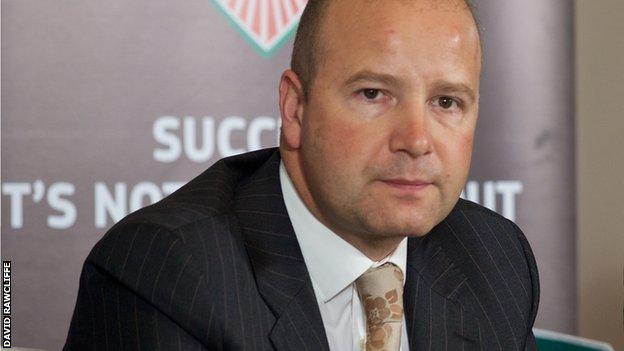 The Football Association of Wales has launched an anti-match-fixing campaign after revealing more than £75m a season is bet on the Welsh Premier League.
An average £575,000 is wagered each weekend in the WPL and the FAW says the match-fixing threat is "significant".
"We're being proactive to ensure betting in Wales is well controlled," said FAW chief executive Jonathan Ford.
Clubs and the FAW strongly denied allegations two WPL matches were fixed last season.
The FAW said it had employed "integrity experts" at the start of the current season.
"As a result we know that the threat to the game here in Wales is significant," it said on Thursday.
"We were already working closely with Uefa and [sport security service] Sportradar to ensure any irregular betting is brought to our attention," Ford told a news conference.
Referring to the allegations last season, he said: "In that particular case, there was an organisation [Federbet] which was not working with us or Uefa, which announced their concerns over a couple of matches.
"We'd already investigated those matches and, once we'd supplied that data, we were exonerated from any blame with regards to any match-fixing."
The FAW's campaign, called the integrity tour, is a compulsory education programme this season for senior and youth players in the Welsh top-flight.
The tiers below, the Nathaniel Cars Welsh Football League Division One and Huws Gray Alliance League, will have compulsory workshops throughout the 2015-16 season.
"We need to ensure match-fixing has no part in the game," added Ford.
"Working with organisations like Sportradar, we're able to identify where problems will be and educate people as to what the real difference is between proper betting and illegal activity such as match-fixing."