Benfica boss Jorge Jesus queries coach of the year shortlist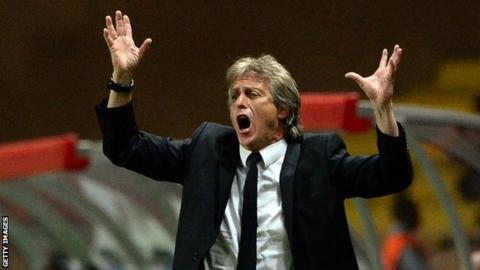 Benfica boss Jorge Jesus believes he should have been on Fifa's Coach of the Year shortlist for masterminding the Portuguese club's domestic treble.
Jesus, 60, also steered Benfica to the Europa League final in 2013-14 before losing 4-2 to Sevilla on penalties.
Chelsea boss Jose Mourinho, who is on the 10-strong list, did not win anything last season.
"Some weren't in the European finals, some weren't even domestic champions," said Jesus.
Benfica won the league title, were crowned Portuguese Cup winners and lifted the Portuguese League Cup under Jesus last season.
Carlo Ancelotti (Real Madrid), Antonio Conte (Italy/Juventus), Pep Guardiola (Bayern Munich), Jurgen Klinsmann (United States), Joachim Low (Germany), Mourinho (Chelsea), Manuel Pellegrini (Manchester City), Alejandro Sabella (Argentina), Diego Simeone (Atletico Madrid) and Louis van Gaal (Manchester United/Netherlands) were named on the shortlist announced on Wednesday.
Fifa 2014 Coach of the Year shortlist
Name
Team
Achievements
Carlo Ancelotti
Real Madrid
Champions League, Copa del Rey
Antonio Conte
Juventus
Serie A
Pep Guardiola
Bayern Munich
Bundesliga, German Cup, Club World Cup
Jurgen Klinsmann
United States
2014 World Cup last 16
Joachim Low
Germany
2014 World Cup winners
Jose Mourinho
Chelsea
Super Cup runners-up, Champions League semi-finalists
Manuel Pellegrini
Manchester City
Premier League, League Cup
Alejandro Sabella
Argentina
2014 World Cup runners-up
Diego Simeone
Atletico Madrid
La Liga, Champions League runners-up
Louis van Gaal
Netherlands
2014 World Cup third place
Former Braga boss Jesus added: "I don't know the criteria used for this choice.
"If I did, I would have a better-informed opinion, but I have noticed that there are some on the list who achieved less than I did.
"I couldn't help looking to see what some of them did not win.
"If you ask whether I wanted to be there, then I would say yes, it would have been a recognition of my work."