Lionel Messi more skilful than Cristiano Ronaldo - Fabio Capello
Last updated on .From the section European Football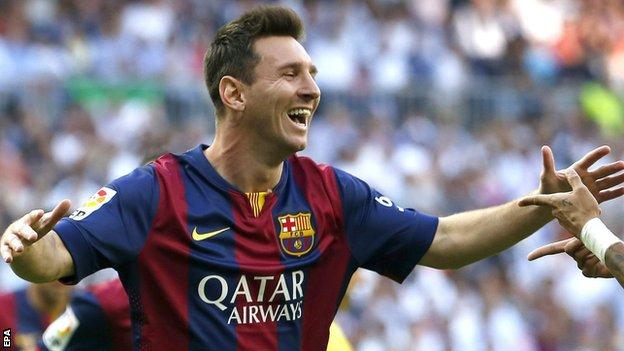 Barcelona's Lionel Messi is "more skilful" than Real Madrid's 2013 Ballon d'Or winner Cristiano Ronaldo, says former England boss Fabio Capello.
Portugal's Ronaldo, 29, is 10th on the league's leading scorers list.
"Cristiano is a powerful player, with very good technique, but he does not possess the pure technical skill of Messi," Capello told AS.
Head-to-head

Lionel Messi at Barcelona

Cristiano Ronaldo at Real Madrid

Appearances

Goals

Appearances

Goals

284

250

La Liga

173

193

89

69

Champions League

54

55
Messi has scored 250 goals in 284 appearances for Barcelona and is one behind Telmo Zarra's record for Athletic Bilbao in the 1940s and 1950s.
He has scored seven league goals this season, nine behind Ronaldo's tally and two behind team-mate Neymar.
Ronaldo and Messi, a four-time winner of Fifa's World Player of the Year award, are the only active players in La Liga to have scored over 100 goals in Spain's top domestic league, but Capello believes the latter has the edge in terms of technique.
"Cristiano Ronaldo and Messi are two extraordinary players but they are different," said the Russia manager, who attempted to sign Messi on loan for Juventus in 2005.
"Leo Messi is a very difficult player to play against.
"When I saw Messi play I knew he was special. I could see that he could do things that didn't occur to other players."
Top five La Liga highest goalscorers

Telmo Zarra (Athletic Bilbao) 1940-55

251

Lionel Messi (Barcelona) 2004-present

250

Hugo Sanchez (At. Madrid, Real Madrid, Rayo Vallecano) 1981-94

234

Raul (Real Madrid) 1994-2010

228

Alfredo Di Stefano (Real Madrid, Espanyol) 1953-66

227