Asian Champions League: Saudi Arabia limit away fans at final
Last updated on .From the section Football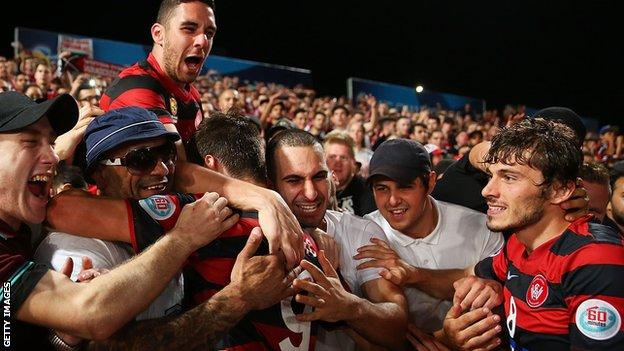 Only 14 Western Sydney fans have been given visas to visit Saudi Arabia for Saturday's Asian Champions League final second leg against Al-Hilal.
The Australian side won the first leg 1-0 in front of a record 20,053 crowd at the Parramatta stadium.
However, Saudi Arabia has strict visa guidelines relating to political and religious background.
"Saudi Arabia doesn't offer tourist visas," travelling fan Josh Shepherd told BBC World Service.
"In order to visit Saudi Arabia you have to be invited into the country. Under AFC (Asian Football Confederation) rules, Al-Hilal has been pressured to do this but I'm looking forward to the game."
The Saudi Arabian visa guidelines also has rules about women travelling alone but Kate Durnell, the solitary woman among the small Sydney support said: "We've been assured by both clubs that we're in safe hands.
"I'm not worried at all. You just have to make sure you abide by the local customs and respect their religion just like any other place you would go to."
Al-Hilal are six-time Asian champions with more than 40 domestic titles since their formation in 1957 whereas the Wanderers were founded two years ago.
The winner of Saturday's game will go on to face the likes of Real Madrid and Mexico's Cruz Azul in the Fifa Club World Cup in Morocco.
You can listen to the full interviews on the BBC World Football podcast.