Swansea City told to be 'careful' about potential US investors
Last updated on .From the section Football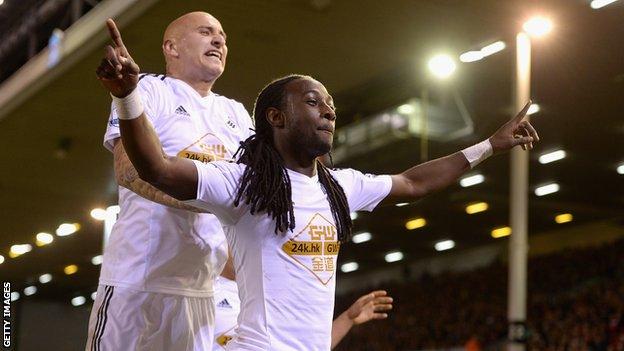 Swansea City should be "very careful" about potential investment from American millionaire John Moores.
Swansea's supporters' trust, which owns 20% of the club, has voiced its concerns about foreign ownership.
"You have to be very careful about getting over excited about American investors," said football finance expert Tom Cannon.
Moores is an entrepreneur who previously owned the San Diego Padres Major League Baseball franchise.
Jenkins said in September that Swansea were "miles behind" most of their rivals in terms of commercial income.
Manchester United, Liverpool, Arsenal, Aston Villa and Sunderland all currently have American owners.
Although Swansea could benefit from additional funds, the supporters' trust has said it is "not convinced" about foreign ownership.
American owners in the Premier League
Manchester United (Glazer family)
Liverpool (John W Henry, Fenway Sports)
Arsenal (Stan Kroenke)
Aston Villa (Randy Lerner)
Sunderland (Ellis Short)
"I think members of the Swansea supporters' trust are right to be very cautious for two reasons," said Cannon.
"First, American investors come into the sport to make money. Therefore, if the money isn't there, the sustainability of the investment has to be questioned.
"The second reason is that American owners don't have a particularly great track record, whether you're looking at Sunderland or Aston Villa.
"There are cases where they have sustained to a degree the success, for example at Manchester United.
"But there's no sign of Liverpool getting back to their great position, nor do you find much warmth towards Stan Kroenke among Arsenal supporters."
There has been no overseas investment in Swansea since the club was bought from Australian Tony Petty in 2002 when the Swans were struggling near the bottom of the Football League.
Since then, Jenkins and the board, which includes a fans' representative, have steered the club to its current position of sixth in the Premier League table.
"Swansea is probably the best-run club in the Premier League in many ways," said Cannon.
"Therefore, anything which moves them off that model has to be treated with great caution.
"A lot of credit goes to the majority owners, but a lot of it goes to the willingness of the Swansea supporters' trust to put the kind of commitment which is not just financial but also provides the ballast of the ongoing commitment which you get when you have supporters directly involved like that."