Man City v Man Utd: Manuel Pellegrini's side will stick to attack
Last updated on .From the section Football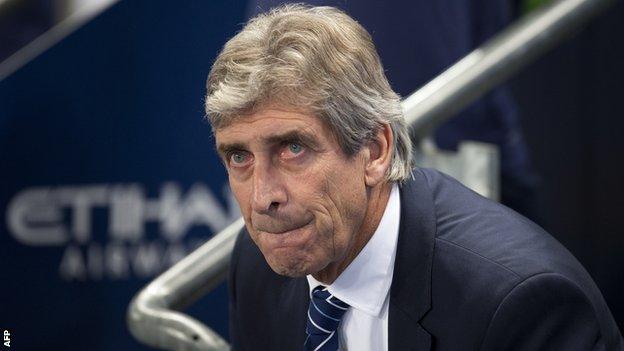 Manchester City manager Manuel Pellegrini will not abandon his attacking principles in Sunday's Manchester derby despite a dip in form.
"Around the end of October (2013) we had the same questions, and I answered the same way," Pellegrini said.
"It is the way we must play. We will continue doing the same way."
City have lost two and drawn two of their opening nine league games to sit third in the table on 17 points, nine points behind leaders Chelsea who have played a game more.
A year ago, they were seventh with 16 points from nine games before going on to seal their second title in three seasons, scoring 102 goals on the way to become only the second Premier League team to reach three figures after Chelsea in 2009-10.
With this season's form mirroring last term's at the same stage, Pellegrini sees no reason to feel under pressure.
"I think it is very difficult to analyse the season when it is just in October, when you have just played nine Premier League games and you don't know whether or not you are going to qualify in the Champions League," the Chilean said.
City go into the derby on the back of a bad run in which they squandered a two-goal lead to draw 2-2 at CSKA Moscow in the Champions League on 21 October and then lost 2-1 at West Ham in the league and 2-0 to Newcastle in the League Cup.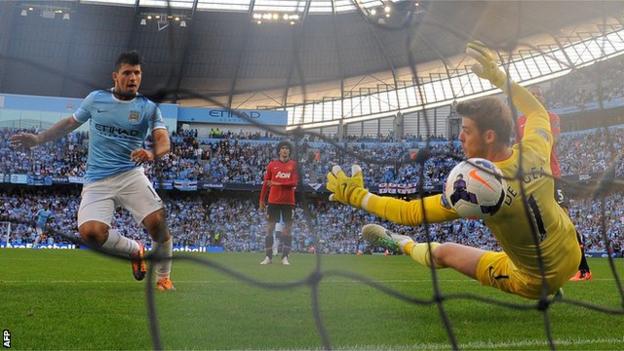 Defeat by Manchester United would cement the champions' nine-point deficit behind title rivals Chelsea, a scenario that was not lost on defender Pablo Zabaleta.
"At the moment, if you look at the form of both teams, I would probably say (it is) 50-50. I think United are one of the big contenders for the top four and maybe for the league. We cannot forget United," the Argentina international said.
"Obviously we are the champions and we play at the Etihad. I am sure the atmosphere will be great on Sunday. We play with our fans, so everything is great. Hopefully we can do a great game and get three points.
"I think Sunday is just about three points and winning that game. We can get the confidence back, something that we need at the moment. We cannot drop points and let Chelsea go."