Forget jumpers... these are the best makeshift goalposts
Last updated on .From the section Football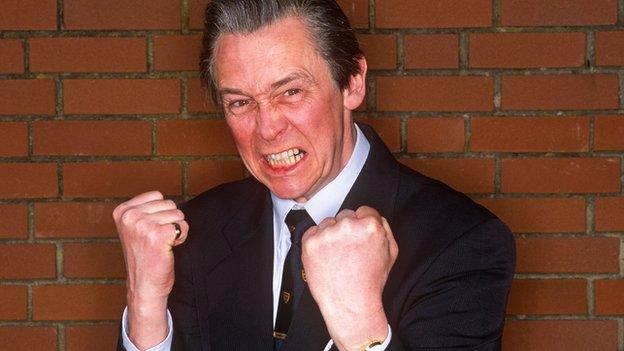 On Saturday morning we teamed up with the Danny Baker Show on BBC Radio 5 live and asked you to tell us about the weird and wonderful objects you have used as goalposts.
Fast Show character Ron Manager (pictured above) talked famously about "jumpers for goalposts", but you came up with some fantastic alternative suggestions:
Deano Smith: Garage door, with built-in goal-line technology of that aluminium twang as goal confirmation!
Andy Coates: When cable TV was installed in our area back in the 1990s they left a big pile of three-inch plastic tubes lying around at the end of each day. We would borrow a few and made a post and crossbar which we fixed up against a tree. We still had them after they left and were great for months.
Nick Nack Cashmore: A tree and a no football sign.
Tyler Harnish: Makeshift goals in remote Tanzania: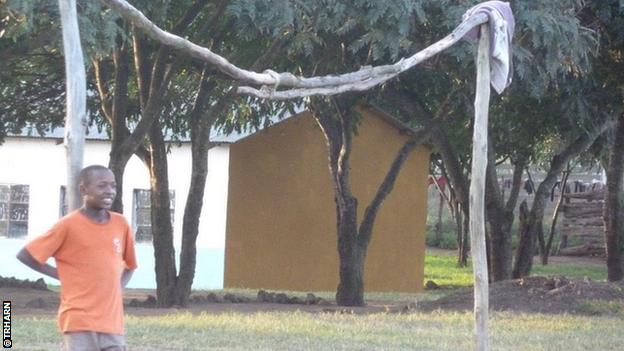 Luke Baldwin: We used to use plastic bottles for goal posts and a match ball at primary school. Teachers had banned all footballs.
Dickson: Growing up with street football we used giant stones as a goal post and sometimes bamboo sticks.
Peter Field Golf NFGC: I remember using a bike and a wheelie bin one end and a jumper and a gnome the other.
Gethin Wilkinson: We used to use my neighbour's dog as a goalpost. Thankfully we were so bad at shooting. She was pretty safe!
Bismark Ato Eduakoh: We used bamboo sticks for the goal posts, in Takoradi, Ghana, West Africa.
Nathaniel: Used an old bed once.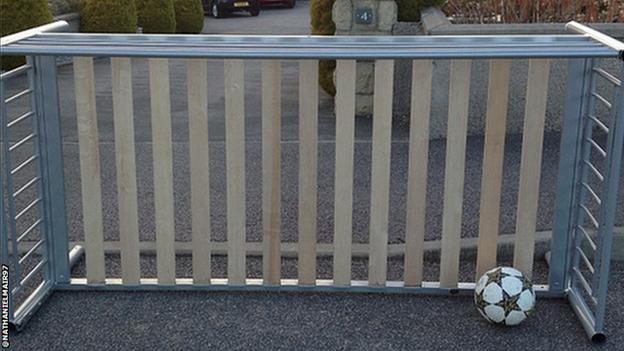 Heather: I was used as a post a few times as a kid...
Liam Dawson: We used two thorn bushes either side of our driveway. Needless to say we soon learned how to finish.
Michael Chittock: Jumpers mainly used but also upside down bikes, with a mean ricochet if they hit the tyres.
Craig Swanny Swanson: We used to use our bikes, only problem was when you were in goal and dived you used to hit the pedal.
Yanto Miklos Fulep: We discreetly borrowed some temporary boundary fencing from a five-a-side court they were in the process of building on the estate. The blocks that support the fence were too heavy so we discreetly borrowed two trolleys from our local supermarket to keep the fence upright and they acted as posts and the fence was the net. We hardly played on the five-a-side court when it was completed because our makeshift goals were the best.
Trojan: At work we use tins of paint, never spilt a drop!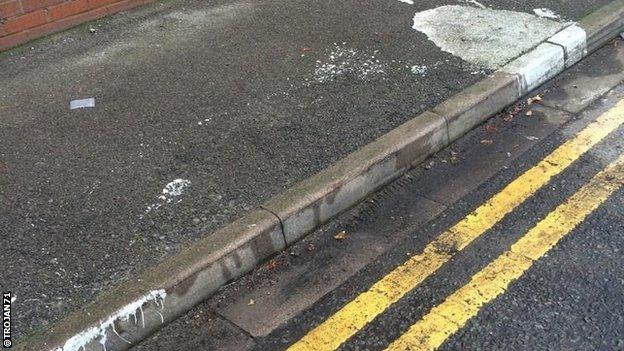 You can continue to share your best makeshift goalposts on the Match of the Day Facebook page.