Swansea City: Ashley Williams happy with 'point gained'
Last updated on .From the section Football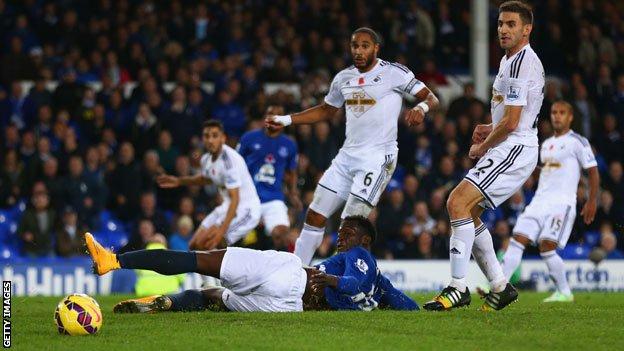 Captain Ashley Williams was happy with "a point gained" after 10-man Swansea held on for a 0-0 draw at Everton.
Midfielder Jonjo Shelvey became the fourth Swan sent-off this season when he was shown a second yellow card in the 71st minute.
"We dealt with most of it ... well especially when we got down to 10 men," said Williams.
"We've been there so many times this season already it made it a bit easier ... we know what our roles are."
The Swans survived the final 20 minutes without major scares, and remain sixth in the Premier League - two points above their former manager Roberto Martinez's Toffees side.
Central defender Williams, who made one crucial interception late in the game, said the team performed well in adversity.
"[It was] let's not panic and do what we've got to do as a team, and I thought we defended really well," said the Wales captain.
"It was definitely a point gained. It's a tough place to come.
"You can't help but watch the clock tick down - it's getting into the last 10 minutes, the last five - and you're hoping that everyone stays switched on and we kept the clean sheet which is really pleasing."
Williams added that he didn't feel the Swans have a problem with discipline, though he felt Shelvey was "a bit silly" for the first of his two yellow cards at Goodison Park.
"Every red card has been a little bit different," Williams said.
"Some you can't really question some you can.
"It is what it is - we had a man set off, no one is pointing the finger at Jonjo although especially the first yellow was a bit silly on his part.
"But we're not worrying about it too much, the pleasing thing to come out of that was the way we all stuck to our task."
Swansea's next match in the Premier League is against Arsenal at home on Sunday, 9 November.