Rangers 'the draw Celtic wanted', says Stefan Johansen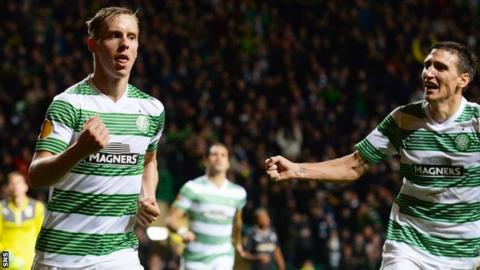 Celtic players roared for joy as they were paired with Rangers in the Scottish League Cup because it was the draw they wanted, says Stefan Johansen.
The semi-final will be the first meeting between the Glasgow rivals since April 2012, after which Rangers were consigned to liquidation.
"We are just happy," midfielder Johansen told BBC Scotland. "We were hoping to get Rangers. It is a great game for us and the fans.
"It is a semi-final and a great game."
Celtic midfielder Stefan Johansen
"If we win our game against Partick Thistle, we will go to top of the league and they are in the division below, but it's Rangers versus Celtic."
While the Scottish champions were drawn against the side sitting second in the Scottish Championship, Aberdeen came out of the hat alongside Premiership rivals Dundee United.
Celtic manager Ronny Deila was quoted before Saturday's draw on BBC One Scotland as saying that playing Rangers would mean that his side had avoided the hardest opponents.
Asked if that had been the reason for the dressing-room elation, Johansen said: "I have never taken part in an Old Firm derby, so it's going to be a great feeling for me.
"It would be good to beat Rangers and go through to the final.
"It is obviously a big game. When I played in Norway, they played it on the Norwegian TV channels.
"When you watched them, you had a feeling about how big they are, but I think you need to take part in the game before you really know how big they are, so I am looking forward to it."
Only veteran captain Lee McCulloch and fellow defender Lee Wallace remain from the Rangers squad that lost 3-0 at Celtic Park in 2012.
Asked what he knew of the current side, Johansen admitted: "Not much, to be fair. I've seen they have done OK in their division, but I just concentrate on ourselves. That's the most important thing."
The Norway midfielder conceded that Celtic would be favourites but did not think that would place extra pressure on his side.
"If we win our game against Partick Thistle, we will go to top of the league and they are in the division below, but it's Rangers versus Celtic," he said.
"I just feel the pressure that we put on ourselves. We know what the fans expect and we know what we expect and we want to win."
Celtic striker Anthony Stokes knows what awaits those on both sides who will be making their Old Firm debuts.
Asked about the reaction the draw sparked in the dressing-room after Celtic's 1-0 win over Inverness Caledonian Thistle, the Irishman said: "I think everyone misses the rivalry.
"I've said it before - when Rangers are back in the top flight, it will bring more competition and will be better for all the clubs, not just ourselves.
"There has probably been a build-up for the last couple of years and people have missed it, so I think it will be something special on the day."