Mourinho criticism: Chelsea fans blame prices for 'empty stadium'
Last updated on .From the section Chelsea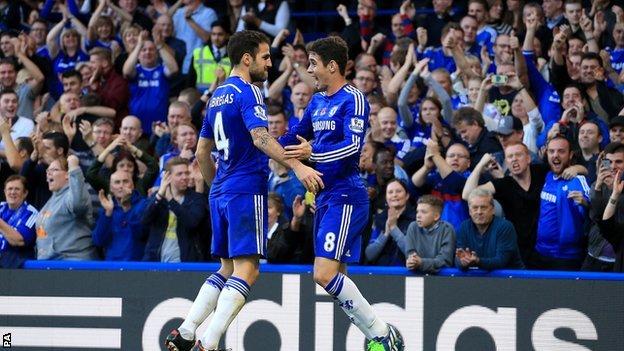 Young fans being priced out of games is the reason for the lack of atmosphere at Stamford Bridge, a Chelsea supporters' representative has said.
"It's £50-plus to go," said Chelsea Supporters' Trust chairman Tim Rolls.
"And young people - who are the most likely to sing and make noise - have been priced out of the game."
The cheapest general sale adult ticket for the game against QPR was £46, with the most expensive £75.
The cheapest general sale ticket for under-18s was £18 - but those tickets are only available in certain parts of Stamford Bridge.
Match of the Day Facebook page fan reaction
John Rodgers: That's what happens when your ground is full of glory hunters and tourists.
Kevin Kilnan: It's been like it for years, even before Mourinho first came to the club 10 years ago, the real fans have been priced out of Stamford Bridge.
Steven Thomas: Chelsea and City - two teams thrust into glory with terrible support.
Dan Reason: I'm a Chelsea fan, and I totally agree. Our home support is shocking. It's much better at away games for some reason.
Ryan Leach: It's what happens when the stadium is full of glory hunters who just turn up and expect a 4-0 win.
Visit the
BBC Match of the Day Facebook page
to have your say.
Last month, BBC Sport's annual Price of Football survey found that the cheapest season ticket at Chelsea was £750 and the most expensive £1,250.
"Until the clubs recognise that and do something about affordable pricing for young people and creating sections of the ground where they can sing and make some noise then the situation is unlikely to improve," added Rolls.
"It's unrealistic to expect 18- or 19-year-old kids on the minimum wage to come to Stamford Bridge or any other Premier League ground - this isn't just an issue at Chelsea, it's an issue across the board."
A Chelsea spokesman said: "We've worked closely with supporters as regards improving the atmosphere at games and we'll continue to do so.
"We work hard within the constraints of the current stadium to keep ticket prices down, and have frozen those prices in seven of the last nine seasons.
"The club's ticketing policy is due to be discussed with supporters at a forum later this month."