Swansea fans can 'trust' Huw Jenkins over investment - Martinez
Last updated on .From the section Swansea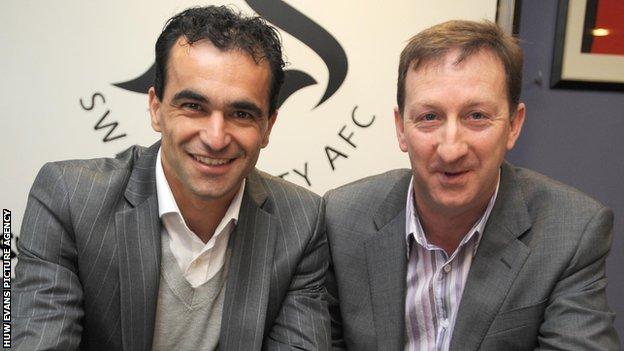 Former Swansea City manager Roberto Martinez says supporters should trust chairman Huw Jenkins and the board over potential investment in the club.
Swansea's supporters' trust, which owns 20% of the club, has voiced its concerns about foreign ownership.
"If that's an avenue they're looking into it must a good reason for it," Everton boss Martinez said.
"My message, as you could imagine, for any Swansea fan is that they can trust Huw Jenkins."
There has been no overseas investment in Swansea since the club was bought from Australian Tony Petty in 2002 when the Swans were struggling near the bottom of the Football League.
Since then, Jenkins and the board, which includes a fans' representative, have steered the club to its current position of sixth in the Premier League table.
But Jenkins said in September that Swansea were "miles behind" most of their rivals in terms of commercial income.
The Swans are understood to be talking to American millionaire John Moores, an entrepreneur who previously owned the San Diego Padres Major League Baseball franchise.
Football finance expert Tom Cannon says Swansea should be "very careful" about potential investment from Moores.
"I think members of the Swansea supporters' trust are right to be very cautious for two reasons," said Professor Cannon.
"First, American investors come into the sport to make money. Therefore, if the money isn't there, the sustainability of the investment has to be questioned."