Ref Mervyn Smyth stood down for two weeks after Mourneview game
Last updated on .From the section Football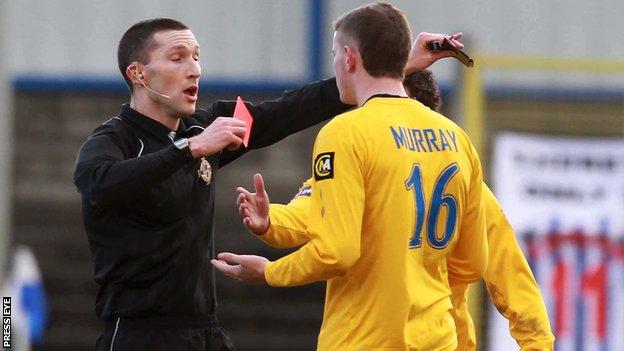 Referee Mervyn Smyth had been stood down by the Northern Ireland Football League for two weeks following his officiating at Saturday's stormy game between Glenavon and Linfield.
Glenavon's Kevin Braniff and Linfield's Seanan Clucas were sent off in the game which also had a mass brawl late on.
A NIFL statement said the referee observer felt that Smyth's performance "fell below the expected standard".
The statement said Fifa referee Smyth will return "after this short absence".
The NIFL said that it was "responding to refereeing issues arising from the Glenavon v Linfield" game.
Saturday's controversy came after referee Smyth was involved in a contentious issue in Glenavon's recent defeat by Glentoran at Mourneview Park.
On that occasion, Glenavon were angered after Smyth shouted "yes" following one of Glentoran's goals although the referee insisted that he was merely indulging in a moment of self-congratulation after his decision to play an advantage.
After Saturday's game, Glenavon manager Gary Hamilton, who was sent to the stands by Smyth during the controversial encounter, criticised the decision to appoint the referee for the contest.
However, NIFL said on Monday that their room for manoeuvre on Saturday was limited with only eight of the panel of 10 referees available.
"With several of these officials having just refereed either Glenavon or Linfield in the past fortnight, the appointment of referees was even more restricted than normal," added the NIFL statement.
"Given the calibre of the game it was felt appropriate that a Fifa referee should be selected to officiate.
The NIFL chief refereeing officer, David Malcolm, recently briefed the Premiership management committee on refereeing matters and in particular the challenges appointing from a small panel.
"These concerns have been discussed with the Irish FA who have recognised the concerns raised and have reassured the NIFL that they are working hard through their referees committee to develop the senior referees panel."
Smyth's absence will include him missing out on taking charge of the Ballinamallard United v Glentoran League Cup quarter-final where he had been scheduled to referee.
"The observer at Saturday's match has confirmed the performance of the referee fell below the standard expected in the Danske Bank Premiership.
"The referee was not alone in this respect given that two players and two coaches were dismissed for their own behaviour at the game.
"Whilst their actions can be reviewed by the IFA disciplinary committee, it is important that the referee is seen to be equally accountable." said NIFL Chief Referee Officer David Malcolm.
"Mervyn Smyth will continue after this short absence to officiate at the highest level as he is one of our more experienced referees locally and of course retains his Fifa rating."