Stuart McCall leaves Motherwell with his head held high

By Richard Wilson
BBC Scotland
Last updated on .From the section Motherwell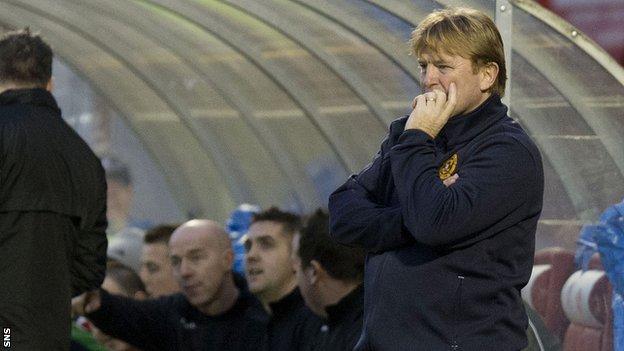 Ultimately, Stuart McCall ran out of answers.
Perhaps that should have been expected, though, since his time at Fir Park had almost entirely been spent problem-solving.
His reign ought to be considered a high point for the club, because McCall's gift was to wring more accomplishment and success out of his side than could have been anticipated from a meagre budget.
In his letter to the club's supporters following his resignation, it was possible to recognise a weariness in McCall.
This was considered out of character for those who used to play alongside him, when he was a busy, spirited and fiercely competitive midfielder.
Many of those qualities followed McCall into management, and his charisma and enthusiasm were often enough to motivate exceptional performances from this players - Motherwell defeated Celtic three times at Fir Park under him, for instance.
Yet defeats have always weighed heavily on McCall, and the team's form this season began to seem like an ordeal for him.

He confessed to a moment of doubt following his side's 3-1 home defeat by Dundee last month, and his reaction on the touchline during a moment of frustration in that game led some of those who heard him to believe he was already considering his position.
"After the game I felt a bit low and helpless, but that doesn't last for long. There is always another game," McCall later reflected.
Although that moment of anxiety passed, and McCall resolved to try to steer and cajole the players out of their slump, the 2-1 defeat by St Johnstone last Friday prompted a sleepless night. When he awoke again in the middle of the following night and realised he had no more ideas to revive the team or the players, he accepted his time at the club should come to an end.
'Well under Stuart McCall in top flight

Season 2011-12

Third place

Season 2012-13
Second place

Season 2013-14

Second place
McCall is consistent in accepting responsibility - he came to the same decision to resign at the end of his spell in charge of Bradford City.
In his letter to the Motherwell fans, McCall said "managers always hold on to defeats longer than victories".
The job may already have felt beyond his influence even before the season began.

Having guided Motherwell to second-place finishes in the past two campaigns, and to third the season before, McCall could have decided during the summer that such a run could not feasibly continue. It was already a feat of alchemy to have maintained that level of consistency, since every close season brought a reduction in his budget and the departure of key players.
In the summer of 2013 alone, McCall lost Darren Randolph, Nicky Law, Michael Higdon, Henrik Ojamaa, Tom Hateley and Chris Humphrey. Previously, he'd seen Mark Reynolds, John Sutton, Steve Jennings, Jamie Murphy and Stephen Craigan depart.
This summer saw less upheaval, since the only departures were James McFadden, Shaun Hutchinson and Henri Anier. Yet this was also the moment when his squad most closely came to reflect the extent of his budget.
An astute football man, McCall would have recognised that this campaign would present a challenge just to try to stay in the top six, let alone repeat the feat of previous seasons.
He is always bubbly and passionately enthusiastic, but that side of his personality became more difficult to sustain as the players' lack of confidence grew more problematic.

Yet even his resignation reflected well on him, since he sought no excuses and admitted his own fallibilities.
During the past three seasons, McCall's agent was approached several times by clubs looking to fill managerial vacancies, but always at a time when he felt Motherwell were due some loyalty.
More recently, there was an expectation he would join the coaching staff at Crystal Palace after Neil Warnock became manager, since the two had worked together at Sheffield United.
There will be a period of contemplation for McCall now, and he still has his coaching work with Scotland to keep him involved in the game, but a reunion with Warnock could not be ruled out.
McCall's family had settled again in Scotland, though, where his wife had always wanted to return following the years spent in England after his time at Rangers came to an end. The best spell of his playing career came north of the border and the same can now be said of his time as a manager.

McCall took Motherwell into the Champions League qualifiers and to a Scottish Cup final.
There were setbacks to endure, of course, but the overall sense was of a manager operating at the peak of his ability in an environment suited to his personality and approach. The affability was never a chore, but eventually the demands presented by a squad in decline did test the limits of McCall's resolve.
He left because he felt he could no longer find the solution and that a new manager, a fresh voice, might have more success.
It would be wrong to consider it a moment of weakness; it was a selfless act.