Arsenal and Theo Walcott start talks over contract extension
Last updated on .From the section Football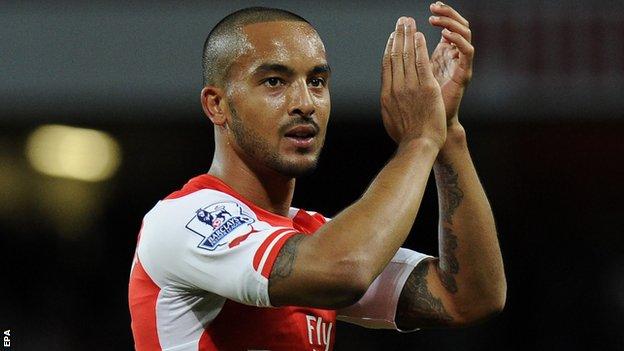 Arsenal have opened talks with Theo Walcott about extending the England forward's contract.
"We are starting to sit down with him," said Gunners manager Arsene Wenger.
"I think he has one and a half years to go on his contract in December and it is never an easy job with him, you know."
Walcott came off the bench after 80 minutes of the 3-0 victory over Burnley last Saturday as he played his first game since suffering a cruciate knee injury in an FA Cup win over Tottenham on 4 January.
The England international joined Arsenal from Southampton in 2006 and has scored 45 goals in 195 league appearances.
"Will he be at his peak in the next few years? He should be, yes," added Wenger.
"He is 25. It is the best years now so hopefully we can profit from that."
Former Arsenal defender Nigel Winterburn on Walcott:
"Theo Walcott is a player that I have always rated. A lot of people have always focused with Theo that he has not got a football brain - that he can't do this and that, but I always say look at what Theo Walcott can do. He has got genuine pace, scores goals and sets up chances."