Tel Aviv derby abandoned after player and fan clash
Last updated on .From the section European Football
The Tel Aviv derby between Hapoel and Maccabi was abandoned at half-time after a fan attacked a player who was then sent off for retaliating.
In events described as "shameful" by Israel's sports minister, Maccabi midfielder Eran Zahavi was confronted by a bare-chested fan on the pitch.
Slaps and kicks were exchanged before the fan was led away by security.
Zahavi was then dismissed, prompting further pitch invasions before Monday's match was abandoned.
Hapoel manager Eyal Berkovic, who played for Southampton, West Ham, Celtic, Blackburn, Manchester City and Portsmouth, said: "This was not a game of football, it was war.
"I'm stunned and ashamed to be involved in football on a day like today.
"Both clubs and both sets of supporters must be severely punished for what happened here."
Israel international Zahavi, 27, had scored for the visitors with a penalty to make it 1-1 in the 33rd minute.
Shortly afterwards, the fan confronted the player, who tried to repel the attack before the supporter was restrained and taken away.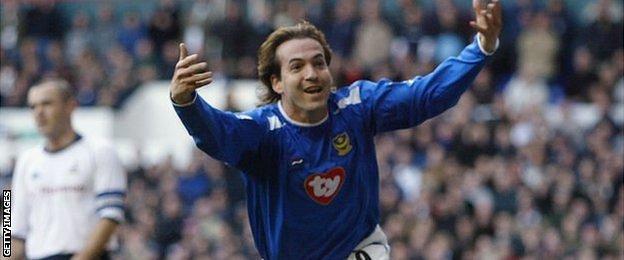 Zahavi, who had taunted Hapoel fans behind the goal after scoring the equaliser, was then sent off by referee Roi Reinschreiber for retaliating.
A long melee followed before play was restarted, but a further pitch invasion by a handful of other fans, apparently from both sides, forced the abandonment.
Sports Minister Limor Livnat said in a statement that stopping the match was the only course of action.
Tel Aviv police chief Bentzi Sau said 10 supporters had been arrested and that video footage would be examined in the hunt for other offenders.
Maccabi chief executive Martin Bain, a Scot who was previously at Rangers, said he was "deeply concerned" by the night's events but supported the decision to abandon the game.
He added: "This club will not tolerate anti-social behaviour, will not tolerate violence. We came here as the away team and expected the safety of our players to be paramount.
"We cannot accept a player being attacked on the field of play and will certainly make representations."