Stockport fan outbids Man Utd and Man City supporters at auction
Last updated on .From the section Football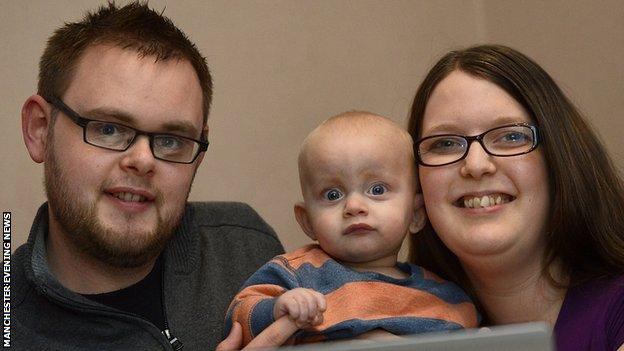 A Stockport fan has successfully bid at an auction set up for the allegiance of a newborn baby.
But the seven-month-old will instead support local club Stockport - after a County fan came forward with a winning offer of £190.
"It'll be good for his character building," said Ian, a Watford fan, "It's good to support your local team."
Eddie was born six weeks prematurely and the money will go to the Bliss charity which supports premature and special care babies.
Ian had expected the auction to be between fans of Manchester's top two clubs.
But after hearing Eddie was from Cheadle, which is in Stockport, fans of the Conference North team came forward to complain.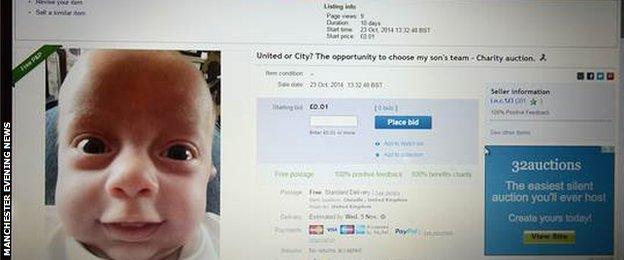 "I had a few messages from Stockport fans and it was only right they were added as an option," Ian said.
"I've done some research and it's only £1 to get in for children under 10 which is good and it's just down the road. They have struggled recently but they are a big club for that league and are hopefully on the way back."
Stockport County - not United or City

The Hatters play in the sixth-tier Conference North

Despite their fall from grace County still attract crowds of about 2,500
Stockport finished eighth in the First Division in 1997-98 and beat City 3-1

Stockport dropped out of the Football League in 2011
Ian, who is also running the London Marathon next year for Bliss, added: "They're at home on Saturday so we're going to go down for his first match and I'll buy him the kit."