Nottingham Forest: Chris Cohen taking no chance with knee injury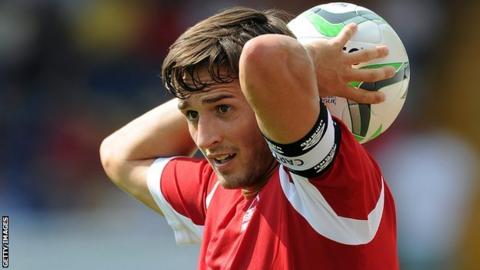 Injured Nottingham Forest captain Chris Cohen says there is no chance of a return before the scheduled nine-month lay-off even if he feels fit enough.
The midfielder has been out since September after suffering the third cruciate knee ligament injury of his career in the draw with Derby County.
"The surgeon won't let me play before nine months because it's a re-rupture," Cohen, 27, told BBC Radio Nottingham.
"One more and it will probably be game over so I have to be very careful."
Cohen has played 263 games for the Reds since his move from Yeovil Town in July 2007 and retained his role as skipper when manager Stuart Pearce took over in the summer.
Chris Cohen
"It will be frustrating but it's the right thing to have a long career rather than play a few games and risk it."
The former West Ham trainee helped Forest pick up four wins from six Championship games in an unbeaten start to the season before damaging his knee in the 1-1 draw with the Rams at the City Ground.
"It's disappointing to be here again but the operation went very well and the surgeon is very happy," said Cohen.
"As much as I would love to try to come back this season and play a part I don't think I'll be allowed to.
"It will be frustrating but it's the right thing to have a long career rather than play a few games and risk it."
Forest assistant manager Steve Wigley's reaction after the injury
"We will miss him on the pitch and off it. But I have no doubts he'll come back. He knows what he has to come through."
Cohen suffered knee ligament damage in September 2011 and was ruled out for a year, before then missing most of last season with a cruciate knee ligament injury sustained in November.
"This time more than the other two times it will be frustrating because they reckon in a couple of months I will probably feel good enough to go," added Cohen.
"The last two times I have always thought I could be ahead of schedule - even if I probably won't and didn't - and the thought you might be able to drives you on.
"But it's the minimum of nine months this time so that's the toughest thing to get your head around, taking your time with things when you just want to push on and push on."