Africa Cup of Nations: No 2015 move despite Caf 'concerns'
By Piers Edwards
BBC Sport, Rabat
Last updated on .From the section Football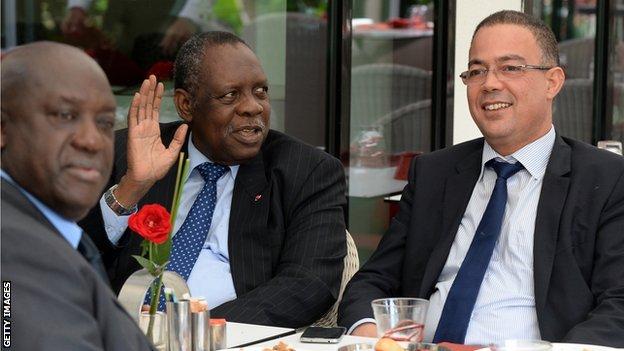 The Confederation of African Football has "concerns" over the Ebola outbreak, despite rejecting a request to postpone the 2015 Africa Cup of Nations.
Moroccan organisers of January's finals have until Saturday to decide whether they still want to stage the event.
They had expressed fears over hosting the 16-team event because of the ongoing Ebola outbreak in West Africa.
"We have concerns about the whole situation," Caf secretary-general Hicham El Amrani told BBC Sport.
"It is not a pleasant situation for any one of us.
"We understand the precaution that a sovereign state has to take, but it's important not to stigmatise the virus and increase the fear of it - but rather be factual about how it can be transmitted from one place to the other, while taking all necessary measures.
"We have been working alongside the World Health Organisation (WHO) since April to make sure we don't take any unnecessary risks.
How the Ebola outbreak has affected African football
Sierra Leone has suspended all football matches in the county
Caf has placed bans on Guinea, Liberia and Sierra Leone hosting any international football
Seychelles forfeited their Nations Cup qualifier rather than host Sierra Leone
"We will never take any risk if we are unsure about whether a competition poses a threat to the hosts. That would be as disastrous for us as for any nation having the virus."
On Sunday, Caf's executive committee unanimously agreed to maintain the dates of next year's competition - which is scheduled to run between 17 January and 8 February.
Morocco, which last staged the finals in 1988 and which will host Fifa's Club World Cup next month, had asked for the tournament to take place in either June 2015 or January 2016.
El Amrani said there were various reasons for the rejection, which was relayed to Moroccan officials in their capital Rabat on Monday.
He explained that talks with the WHO, a body with whom Caf have been in close contact since the outbreak, were once again key.
"Their advice was very clear, in that they only recommend cancelling mass gatherings and football matches in the heavily-affected countries: Guinea, Liberia and Sierra Leone," he said.
Ebola-free since the virus was first reported in Guinea in March, Moroccan officials have expressed concerns over containing the disease if vast numbers of fans arrive for the Nations Cup.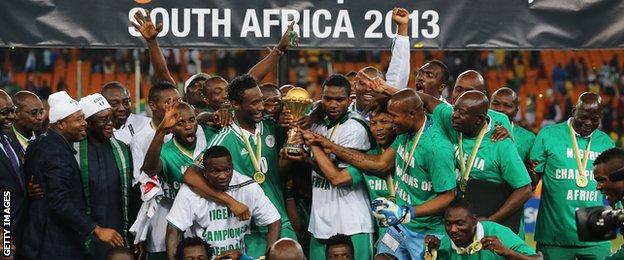 Last month, Sports Minister Mohamed Ouzzine said they were expecting an influx of between 200,000 and one million fans.
"This is where we respectfully disagree," added El Amrani. "Historically, the Nations Cup - considering the purchasing power of the fans - does not [bring in] a lot of fans.
"For Morocco, we are expecting the majority of the away fans to come from the north, countries such as Algeria, Tunisia and Egypt - because they are close geographically and have a higher purchasing power.
"From the west, we expect a total of 1,000 people to come."
El Amrani also said the decision by Moroccan authorities to allow flights in from the affected countries had been a factor in Caf's thinking, as had the decision to allow Guinea to play matches recently in Casablanca.
At present, only the Guineans have any realistic chance of qualifying for Africa's biggest sporting event from a heavily-infected area - so if they do make it, will their fans be barred from travelling?
"That will be part of the eventual discussions with the Moroccan party, and is a point to be elaborated and discussed once we have the major decision received from the Moroccans on whether they are willing to maintain the competition or not," El Amrani said.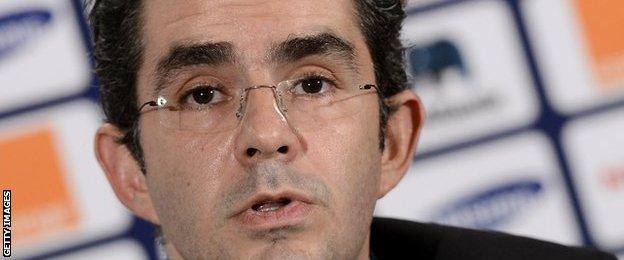 Sports Minister Ouzzine said last month that Morocco has a "historic responsibility" to look after its public, while the country also has a tourism industry worth $7bn in 2013 to protect.
With just over two months before the finals, Caf is refusing to divulge its alternative plans should the North Africans pull out - with El Amrani saying it would be "improper and disrespectful" to mention other names while Morocco is still the designated host.
Last month, Caf approached Ghana and South Africa about hosting the tournament, but South Africa - the 2013 hosts - ruled out staging a second tournament in succession.
"Despite revolutions, diseases and wars, we have always been able to maintain the calendar for our competitions," he added.
"We have come here in an open spirit - not to take away the Cup of Nations from Morocco - but to ask them to kindly reconsider their position."
After Morocco - and those countries prepared to step in - confirm their positions on Saturday, Caf says it will make a final decision on where to stage the tournament on 11 November.