Yaya Toure: Manchester City midfielder criticises online abusers
Last updated on .From the section Man City
Manchester City midfielder Yaya Toure says the abuse he has been subjected to on social media is "a disgrace".
"For me, it's a disgrace to be honest," Toure, 31, told BBC Sport. "We need to do something to try to tell people those kinds of behaviour have to stop.
"I want those people to understand what they're doing is wrong."
Toure called on the football authorities to do more to combat the problem of racism in the game.
"I've been trying to say to [world governing body] Fifa that they are on the wrong way and what they are doing is not good," he said.
Anti-discrimination group Kick It Out on Monday said it had received complaints about two tweets of a "racist nature" and had informed the police.
It added Toure had been back on Twitter "for a matter of hours" when he "received abuse of an appalling nature".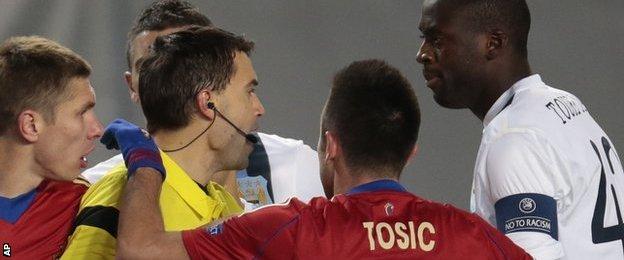 The Ivory Coast international was also the target of racist abuse last season when City beat CSKA Moscow in Russia.
"To have such aggression in sport, I can't understand that," he told BBC World Service's John Bennett. "That's why I've been trying to fight it.
"Football doesn't have a colour. We're just people from all over the world trying to enjoy the game.
"I never see this in rugby, I never see that in tennis or anything else. I don't know where it's coming from.
"Sport is sport. Sport is not violence. Sport is not about being bad with people. Sport is about being healthy and proud of what you are doing."
Toure fears failure to stamp out online abuse will force other footballers to steer clear of social media.
"For me, it's OK because I have experience, but for young lads who will maybe go on Twitter and find that... first, they'll be afraid; second, they'll close their account," he said.
Asked if he found the abuse hurtful, Toure said: "No, because I've been attacked like that for many years. I will never stop telling them they are wrong and have to change."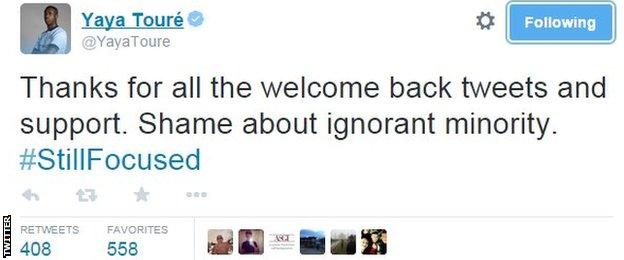 City manager Manuel Pellegrini does not think Toure's performances will be adversely affected.
"Yaya is an experienced player," Pellegrini said ahead of Wednesday's Champions League encounter with CSKA at Etihad Stadium.
"He is always trying to fight against those things but I don't think he will have any problem about that, to play in the way he knows."
Pellegrini added: "I read the news about what happened but I think the people in charge will do the right things."